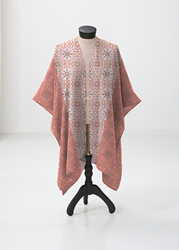 DeArment shares her customers' commitment to authenticity, connection, and values.
Sarasota, FL (PRWEB) April 18, 2017
In recognition of consumer trends to "trade down from luxury to affordable luxury and trade up from discount to value," (10 Fashion Trends That Will Define the Fashion Agenda in 2017) designer Mary DeArment is expanding beyond her luxury brand, Scarves by Mary DeArment, and marketing her designs as Word Art, now available as accessories and apparel at Mary DeArment's VIDA storefront. The designer's goal to make her designs more affordable and available is driven by the social message of her artwork. If more people can afford these products then more conversations are started about the issues the artwork addresses. Designer Mary DeArment shares her customers' commitment to authenticity, connection, and values.
"Millennials have something to say, and my artwork provides a unique vehicle for them to embody a concept." Every DeArment design is made with a word or phrase.

Social movements are supported through designs made the words "Support Love," "Gender Equality," and "Peace."
Holistic personal practices are encouraged through designs made with "Love," "Think," "Namaste," and "Breathe."
Community is encouraged with designs made with "United," "Safe," and "Home Sweet Home."
The arts are celebrated with "The Arts," "Rhythm & Blues," "Dance" and "Poetry."
The partnership with VIDA is synchronous as both companies care about people and communities. DeArment and VIDA recognize that meaningful work, inspiration, beauty, and a global mindset are key to creating meaningful and efficient production and consumption experiences. VIDA supports its producers all over the world by implementing training programs which meet an educational need identified by the producers for themselves. Literacy programs in the Middle East and women empowerment workshops in Turkey are two examples of VIDA's commitment to its producers. VIDA customers support these jobs and educational enterprises and support artists who are able to focus on creativity without the headaches of production, inventory and fulfillment.
Mary DeArment's experience as an educator and her lifelong immersion in learning is at the root of her unique approach to design. "I want my viewers to think, to be engaged, to struggle to solve and then discover the solution. Thinking is learning. Thinking is living. This process of thinking through problems together and diving into the meaning of concepts is much needed today, given the impact of political shifts and intensifying volatility." The changing character of consumers dovetails with DeArment's highly conscious approach to design. Consumers today are more informed because they value information; consumers today think about issues and are deliberate in their consumption habits. Ordering custom products from VIDA is an efficient and earth-friendly option because items which customers want are not manufactured until they are ordered so resources aren't being wasted to create inventory that sits around waiting to be sold. "In effect, there is no supply chain anymore; instead, a demand chain is created." (The Four Faces of Customization from the Harvard Business Review)
DeArment products made by VIDA include silk, cashmere/silk and modal scarves in various shapes and sizes starting at $80. Of particular note and available for the first time, are the graceful Sheer Wraps. These striking drapey garments which are worn like a jacket but have the flow of a scarf, are flattering to any figure. Men's pocket squares designed by Mary DeArment are available now, allowing men to "wear their word" and start a conversation about the message hidden in the design.