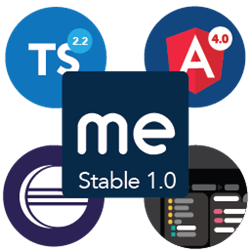 Our best-in-class support for Angular and TypeScript development allows modern web developers to become instantly productive." Said Brian Fernandez, Director of Product Development, IDEs.
Flower Mound, Texas (PRWEB) April 07, 2017
MyEclipse 2017 Stable 1.0 from Genuitec is the first enterprise-quality release of the 2017 stream. Now Genuitec is widening technology and productivity with important features like Angular, TypeScript and their widely acclaimed "Darkest Dark Theme" -- all of this and more while based on Eclipse Neon.
"Our best-in-class support for Angular and TypeScript development allows modern web developers to become instantly productive, focussing on application design and logic, as opposed to fussing with build infrastructure, idiosyncrasies of various tools, or even juggling multiple IDEs." said Brian Fernandes, Director of Product Development, IDEs.
Early this year, MyEclipse announced its initial support for Angular 2, with the ability to easily create Angular projects, and superb coding assistance - whether in Angular HTML templates or TypeScript source. This Stable release also includes tooling support for Angular 4. Besides making work easy -- from the creation of new projects to deployment and debugging -- this Stable release makes it incredibly simple to upgrade from Angular 2 to Angular 4 with a click of a button.
To further increase productivity, this Stable release of MyEclipse places TypeScript as one of its key features, now offering full support for TypeScript 2.1. With it, new types, constructs, support for tslib, and also configuration inheritance (which makes it easier to develop against multiple targets) are included. Moving from TypeScript 2.1, its TypeScript support goes on to initial support for TypeScript 2.2 as well. Editor enhancements, Import Support for TypeScript symbols and TSLint integration form part of this Stable release and TypeScript enhancement.
Stable also introduces "Darkest Dark Theme". Stable users now can get a truly dark theme with an impressive UI, across all OSes. The theme uses icons that are specially designed for a dark background, giving MyEclipse a refreshingly new, cool look. The theme can be easily turned on, and colors customized from your preferences. It even works to intelligently improve the appearance of third party plugins, even when they have not included special settings for dark themes.
"Providing a clean Dark theme with the availability of Darkest Dark takes a major step forward in revitalizing the look of MyEclipse for modern web developers. We are pleased to make the Darkest Dark technology available in MyEclipse and free as a standalone plug-in for Eclipse." said Timothy Webb, Vice President of Operations.
These amazing additions and more are available with the new MyEclipse 2017 Stable 1.0. Learn more and purchase at:
https://www.genuitec.com/products/myeclipse/download/
About Genuitec:
Started in 1997 and counting over 16,000 companies in 191 countries as customers, Genuitec creates technology solutions for leading organizations. Spanning from integrated development environments like MyEclipse and Angular IDE, to delivery platforms like Secure Delivery Center, Genuitec understands the challenges of the modern enterprise. Customers benefit from Genuitec's ongoing commitment to open standards and to the continual enhancement of a rich product portfolio. Genuitec solutions provide unique innovations with low subscription pricing.
Contact Genuitec today to learn more: https://www.genuitec.com/company/contact
Follow them on Twitter: @Genuitec @MyEclipseIDE