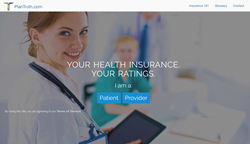 I am a practicing cardiologist in Brooklyn, NY. I have been asked a lot of different questions by patients, but the hardest one so far has been: 'Doc, what insurance should I get?'
Brooklyn, NY (PRWEB) April 10, 2017
PlanTruth.com, the world's first health insurance ratings website, is live on Kickstarter and raising funds to grow and scale the company nationwide.
With dozens of different medical insurance types, companies, plans, deductibles, copayments and so on, patients really need to do their research prior to signing up for a plan. The problem is - there is absolutely no way for patients to actually do that research.
PlanTruth.com will change that by serving as the go-to medical insurance ratings website. For the first time, people will be able to rate and discuss their medical insurance or view what other people (and medical providers) have stated about specific insurance companies and plans. PlanTruth.com is hoping to be the number one destination forum for healthcare plan reviews, rankings, and information.
"I am a practicing cardiologist in Brooklyn, NY. I have been asked a lot of different questions by patients, but the hardest one so far has been: 'Doc, what insurance should I get?,'" says founder and CEO Vladimir Fridman on the inspiration behind the project. "The truth is, nobody really knows the answer to that question. We must have a place for patients to go to in order to obtain information about their healthcare insurance plan options."
The company launched in February 2017 in New York State, and planning to expand to become the number one source of ratings and information for health insurance plans in the entire United States. The website serves as the definitive resource for health insurance, breaking down the details of every plan available in state with a robust glossary available to help consumers navigate the medical terminology.
"Healthcare reform of any type must start with the consumers/patients. They must have access to information about their healthcare plan options," adds Fridman. "Government is now focusing on 'increasing patient options' as a strategy for healthcare reform. The only way such changes would work is if patients actually understand their options."
PlanTruth.com is currently live and available to support on Kickstarter: http://kck.st/2ncvmIp
About PlanTruth.com
Plantruth.com is the first and only healthcare insurance plan ratings website. We aim to be the go to website for patients, providers, and all Americans to rate, review, and learn about their healthcare plans and their healthcare plan options.
Plantruth.com is a 100% non-political website. We aim to simplify the constantly changing, extremely complex, healthcare insurance environment and make sure that all Americans know their healthcare plan options.
For more information on PlanTruth.com, please visit http://plantruth.com
###