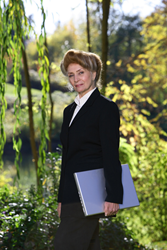 Grants Pass, OR (PRWEB) April 10, 2017
Sharon Kleyne, host of the nationally syndicated radio program, The Sharon Kleyne Hour Power of Water, Global Climate Change and Your Health on VoiceAmerica sponsored by Nature's Tears® EyeMist® celebrated her 11th year on the air by teaching listeners about the traditional Chinese holistic approach to dry eye disease. "Did you know," Kleyne asked, "that in traditional Chinese holistic care that parts of the eyes relate to different internal organs?" For example, Kleyne shared that the heart relates to the corners of the eyes, the iris to the liver, the conjunctiva to the lungs, the pupil to the kidney and the upper and lower eyelids to the spleen.
Sharon Kleyne also revealed that Chinese tradition identifies 6 external pathogens that cause loss of vision. Referring to material from Pacific College of Oriental Medicine, Kleyne shared the following details. Environmental pathogenic factors affecting the eyes:
Heat—Leads to swelling, inflammation and the redness commonly found in many eye diseases such as conjunctivitis;
Cold—Will yield pain and slow vision loss over time, as in chronic degenerative conditions such as macular degeneration and glaucoma;
Wind—Results in sudden and dramatic onset of vision loss;
Dampness—Causes secretion of mucus and swelling;
Dryness—Results in dry itchy eyes and redness;
Summer Heat—Inflammation and mucus discharge.
Sharon Kleyne said these influences are thought of as "Yang conditions of the eye". Kleyne pointed to wind as the leading pathogenic factor affecting the eyes. Wind is, of course, characterized by rapid change and sudden onset. Fire, also a yang condition, is characterized by inflammation, ulceration and redness.
The other environmental pathogens—cold and dampness—result in "Yin" conditions. Traditional Chinese holistic care identifies the most common cause of poor vision is exposure to the damp and cold. The damp or cold eye has poor circulation; the cold blocks the flow of qi and the eye loses out on vital nourishment. Cold will also affect the vessels, muscles and skin around the eyes and this leads to further degeneration of visual acuity.
"There are several herbal treatments in Chinese holistic care for dry eyes," Kleyne said and proceeded to share some of them. Huai Hua Mi (Pagoda Tree Flower) treats dizziness, blurred vision and red eyes as a result of liver heat; Qing Xiang Zi (Celosia Seeds) helps painful red, swollen eyes and cataracts; Ju Hua (chrysanthemum flower) clears the liver, improves red eyes, decreases excessive tearing, clears floaters and blurred vision; Chan Tui (Cicada Moulting) clears blurred vision and reduces redness and also relieves painful, swollen eyes; Qou Qi Zi (Chinese Wolfberry Fruit or Lycium) acts on the liver and kidney deficiencies of Qi and corrects blurred vision and vision loss; Mi Menghua (Buddha Flower Bud) improves sensitivity to light and soothes excessive tearing. "There are other useful herbs for eye care in addition to these," said Kleyne. Kleyne also noted that acupuncture in Chinese holistic care has clearly been an effective way to manage most chronic and degenerative eye diseases. Kleyne urged listeners to become more familiar with these time-honored traditional Chinese methods for relieving the symptoms of many eye afflictions, including dry eye disease.
Sharon Kleyne also noted that Nature's Tears® EyeMist®, developed by her and her research center at Bio-Logic Aqua® Research Water Life Science®, is currently the only product on the global market that supplements the dry eye with pure water and nothing else. Kleyne explained that Nature's Tears® EyeMist® is applied with a personal hand-held humidifying device emitting a pure, pH balanced, 100% Trade Secret tissue culture grade water in a patented micron-size mist. It supplements the eye's tear film, which is naturally 99 percent water. "With Natures Tears® EyeMist®," Kleyne said, "tired and irritated eyes are supplemented with pure water, and that's what eyes challenged by dry eye symptoms need. Eye drops may provide some temporary chemical relief," Kleyne continued, "but they can become addictive and even make the dry eye condition worse." Why? Because eye drops only trap water on the eye's tear lens; they do not supplement the tear lens or the moisture (the tears) around it. Nature's Tears® EyeMist® does supplement both.