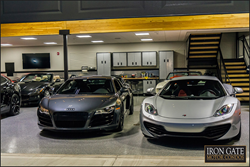 Wash your vehicle with a quality automotive detergent including the engine compartment, hood, door and trunk jams which are all critical components of this bath.
Naperville, IL (PRWEB) April 10, 2017
Whether car collectors have kept their prized vehicles garaged all winter or have braved the ice and snow, the road salt and the potholes for an occasional spin, springtime brings with it a lengthy to-do list when it comes to getting one's automobile back into show condition. Iron Gate Motor Condos and its two newest incoming businesses, Brighton Auto Detailing and Fluid MotorUnion, have devised a Top 10 list to help simplify preparing classic and exotic vehicles for spring.
Soon to be located at Iron Gate Motor Plaza, Brighton Auto Detailing recently set aside time to provide some important vehicle hand-cleaning and maintenance tips at Iron Gates' monthly "Chrome and Coffee" event. Among the company's key recommendations:
1. "Wash your vehicle with a quality automotive detergent," advises Brighton's owner, Jason Morin. "The engine compartment, hood, door and trunk jams are all critical components of this bath." Employee Ryan Bee advocates for a rinse-less wash product in combination with high-quality microfiber towels. He likes the Optimum No Rinse brand for rinse-free washing purposes, while Morin favors a pH-neutral body shampoo such as the one-step car wash, Gyeon Bathe+. Whatever the choice, he cautions, "Do not use Dawn or other dish soaps."
2. When it comes to cleaning, don't overlook the wheels. "Completely wash and protect the rims, not forgetting their inside barrel," Bee points out. For wheel cleansing, Brighton puts in place the same dish soap no-no. Morin also urges car collectors to use a pH-neutral iron remover such as Gyeon Iron or IRON-X.
3. pH balance is also important when cleaning the inside of the vehicle. "On the extra-dirty vinyl areas, a pH-balanced cleaner effectively removes grime buildup," says Morin. Before cleansing, he also recommends "damp dusting and conditioning of the vinyl surfaces."
4. For those with leather seating and trim, Morin advises, "Recondition the leather surfaces to replenish the natural oils that can evaporate over time." As a final touch on the interior, he offers this reminder: Don't forget to "shampoo out the salt in the carpet."
5. Sealants and protectants round out Brighton's car cleaning tips. This advice encompasses the exterior with a quality paste wax or paint sealant, the glass with a glass sealant like Rain-X and the tires and exterior trim with a penetrating rubber and vinyl protectant. In this regard, Bee adds, "Consider a quartz coating for protection and ease of maintenance. Quartz coatings are available for painted surfaces, wheels, glass, plastics/trim and even fabric and textiles."
Morin recommends re-performing all of these suggestions as needed throughout the season.
Fluid MotorUnion, another soon-to-be addition to the Iron Gate Motor Plaza, tacks on to this list several spring courses of action when storing and un-storing a vehicle for the season.
6. Brake fluid – "If it has been close to two years, change your brake fluid" to prevent "rust from the inside out causing system failure."
7. Fuel stabilizers –"While there is certainly no harm in using them during storage, there may not be much they are doing to keep your fuel from going bad" either.
8. Oil changing – Fluid MotorUnion is a strong proponent for performing this task before storing your vehicle for the winter instead of waiting until un-storage in the spring. "The benefit of fresh oil before your season is far outweighed by the risk of having the contaminants sitting in the crankcase."
9. Occasional startups – If a vehicle has been left untouched over the winter, no harm, no foul. "There is no major need to start and run the car a few times throughout the storage season," Fluid MotorUnion asserts. The main points are "making sure you have a good battery and investing in a battery tender that will keep the battery healthy and fully charged."
10. Tire care – Fluid MotorUnion offers two options to prevent flat spots. The more affordable one involves "exchanging all the air from the tires and replacing it with new air and inflating to the maximum." However, "a better but more costly method involves buying flat free or flat stopper ramps that help keep the shape of the tire." Flat spots will normally "work out" after 20 to 30 miles.
For more information on how to get a collector car or exotic vehicle in tip-top shape for spring, please visit http://www.irongatemotorcondos.com or contact Becky Colbert at 630-945-1085 or becky(at)irongatemotorcondos(dot)com.