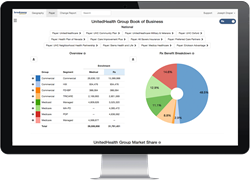 Morristown, NJ (PRWEB) April 12, 2017
Breakaway Partners, a market access solution provider, today announced that Christian Pinsonault has joined the company as a Managing Partner. Pinsonault's responsibilities will include day-to-day operations of all aspects of sales and marketing as well as customer insights into application development and product innovation.
"Christian is a proven leader and industry veteran having built, managed, and sold market access solutions across an array of pharmaceutical and biotech product lines," said Jeff Stewart, Managing Partner. "Christian will play a key role in both building out our product suite and driving growth for Breakaway. We are very excited to have him join our team."
Pinsonault brings to Breakaway over 20+ years of leadership experience in the life sciences sector, including the successful launch and sale of Pinsonault Associates to Decision Resources Group (DRG). At DRG, he had production solution oversight of Fingertip Formulary, HealthLeaders InterStudy, and Pinsonault's former market access PathfinderRx platforms and formulary data.
"Adding Christian to the team will give us great client insight as we continue to develop our innovative platforms. We were very impressed by what he built at Pinsonault Associates," said Paul Santoro, Managing Partner.
About Breakaway Partners
Breakaway Partners delivers insights to the life sciences industry with impactful business solutions that unify sales, operations, and marketing data into a single platform. Our services leverage unparalleled market access expertise, customer service, and pharmaceutical brand knowledge into cohesive decision support and workflow tools to support the decisions from all levels within your organization. Breakaway Partners leverages and streamlines the way data is collected through technological automation therefore minimizing human error, greater frequency in publishing formulary, enrollment, & plan profile data while reducing out of pocket costs for our customers. Additional information is available at http://www.breakawaypartners.com