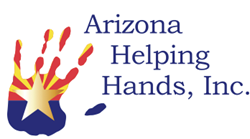 Scottsdale, AZ (PRWEB) April 07, 2017
T.W. Lewis Foundation (TWL) has chosen local nonprofit Arizona Helping Hands (AHH) for a 2017 Challenge Grant. This Challenge Grant is designed to support AHH's new Foster Care Licensing Safety Kits, a first-of-its-kind endeavor to provide foster care families with the many items needed to pass the state's requisite life-safety inspection. Through Dec. 31, 2017, TWL will gift $2,000 per each New Major Gift raised by AHH for up to 10 gifts ($20,000 Challenge Grant). New Major Gifts are defined in this Challenge Grant as donations of $2,000 or more from a new donor (or a lapsed donor that has not given to AHH within the last 24 months). This is a call to action to generate new donors to AHH and to reconnect with past donors that may have lapsed in giving to AHH.
Arizona's life-safety inspection helps ensure that homes are fit for children and includes items such as carbon monoxide detectors, smoke detectors, fire extinguishers, magnetized cabinet safety locks and a customized first aid kit.
"With 17,000 kids in foster care in Arizona, we have a crushing need for new foster care families. This Foster Care Licensing Safety Kit is designed to help families pass the life-safety inspection," said Dan Shufelt, AHH President and CEO. "By supporting our Foster Care Licensing Safety Kits, the T.W. Lewis Foundation's Challenge Grant will help enable us to speed up the process and get these kids into safe homes. This Challenge Grant has us focused on growing our pool of New Major Donors and to garner greater community support for our programs helping foster children."
For more information on donating to AHH, visit our webpage listed below. For donations that qualify as New Major Gifts, AHH will submit to TWL to be included as part of the Challenge Grant: http://www.azfostertaxcredit.org
About Arizona Helping Hands
Arizona Helping Hands supports foster families by providing essentials such as bedding, clothes, personal effects, holiday toys, birthday gifts, school supplies and more. In 2016, AHH provided clothing, diapers, personal care packages, 920 birthday gifts and more than 2,000 beds and cribs to Arizona's children in foster care. To volunteer, donate or connect with AZHH visit us on social media at http://www.facebook.com/azhelpinghands/ or go to http://www.azhelpinghands.org for more information.
About T.W. Lewis Foundation
Formed in 2000 by Tom and Jan Lewis, T.W. Lewis Foundation has provided college scholarships to over 200 future leaders, made strategic gifts to dozens of nonprofits that help children and families in need, and supported youth education organizations that build character and encourage civic engagement. For more information about T.W. Lewis Foundation, please visit http://www.twlewis.com and click on the Philanthropy section.
###
Media Contact: Chelsea Warren| cwarren(at)bigyam(dot)com | (480) 322-6164