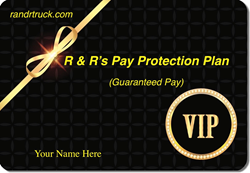 "We believe our Pay Protection Plan is one more way to elevate retention within the company."
Joplin, Mo. (PRWEB) April 17, 2017
R & R Trucking, Inc. recently announced its new Pay Protection Plan for company team drivers. The Pay Protection Plan guarantees $2,000 per week for each company team -- $1,000 per driver.
"Drivers have bills to pay just like everyone else, and those bills come due at different times during the month," says Phil Nelson, R & R CEO. "Our drivers are paid by the mile and are out on the road weeks at a time. If a company team is not off, and they are in the system as availa-ble for dispatch, the new Pay Protection Plan gives them the assurance they will always have a guaranteed weekly paycheck -- even during cyclical times when shipment movements are slow."
In 2016, R & R reported their top 10 company teams averaged over $131,000 annually, the equivalent to .76 per mile. R & R team drivers also earn two days off for each over-the-road (OTR) week out.
"Driver retention at R & R is far better than the industry norm," says Kevin McKelvy, Vice Presi-dent of Administration for R & R. "We believe our Pay Protection Plan is one more way to elevate retention within the company." https://www.randrtruck.com/team-drivers-company-guaranteed-pay (Read More)
For more information about R & R's Pay Protection Plan for Team Drivers contact Dan Howard, 800-625-6885 ext. 2189, or visit R & R's website at http://www.randrtruck.com.
About R & R Trucking, Inc.
R & R Trucking, Inc. – with its group of carriers, AATCO and NEI – is North America's premier truck-ing company that specializes in the transport of sensitive cargo. Their logistic and equipment capabilities encompass tanker, dry van, flat bed, dromedary and specialized transportation equipment. Its mission is to provide transportation services to customers safely and efficiently by utilizing quality personnel and resources.