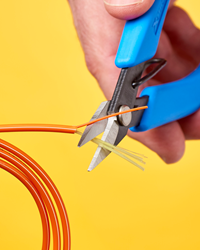 Saco, ME (PRWEB) April 11, 2017
Xuron Corp. has introduced a precision scissors that is designed with a special serrated cutting edge for gripping slippery aramid high tensile cable insulation fibers and a sharp edge for cutting them.
Xuron® Model 9180 Kevlar® Shears feature a special serrated cutting edge designed to grip and hold slippery high tensile Kevlar® fibers and a sharp edge for cutting them. Incorporating tapered tips for penetrating cable jacketing, cushioned soft rubber handle grips and a return spring, these ergonomically designed scissors eliminate conventional finger loops.
Comfortable to hold in either hand, large or small, Xuron® Model 9180 Kevlar® Shears are ideally suited for assembly, production, and field service applications. The cutting edges are heat treated to Rc 58-60 and provide exceptional cutting and long-life, claims the firm.
Xuron® Model 9180 Kevlar® Shears are priced at $24.50 (list) and are manufactured in the U.S.A. A complete catalog of precision shears, pliers, and assembly tools is available upon request.
About Xuron Corp.
Xuron Corp. is one of the world's leading manufacturers of electronics-grade ergonomic hand tools for the electronics, aerospace, plastic molding, hobbies, craft, floral and fishing industries. The company holds numerous domestic and international patents, including an inventor's patent for the original Micro-Shear® flush cutter and its unique cutting action which creates smooth, clean cuts without compression.
Xuron tools are manufactured in Saco, Maine, where quality, an outstanding work ethic, and flawless craftsmanship are a long-time tradition. They are available at hundreds of distributors worldwide who offer more than 100 different types of Xuron quality-crafted hand tools and associated products including pliers, wire strippers, and a Kevlar® cutter.
For more information contact:
Xuron Corporation
Abby Robey, Marketing
62 Industrial Park Road
Saco, ME 04072-1840
(207) 283-1401 FAX (207) 283-0594
e-mail: arobey(at)xuron.com
http://www.xuron.com