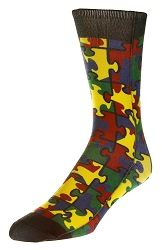 The Autism Awareness Socks celebrate the achievements and contributions of people on the autism spectrum.
Huntington, NY (PRWEB) April 10, 2017
April is Autism Awareness Month and John's Crazy Socks is celebrating by introducing its new Autism Awareness Socks for charity.
The Autism Awareness Socks celebrate the achievements and contributions of people on the autism spectrum. The socks feature the multi-color puzzle that symbolizes autism. The puzzle image signifies the often-puzzling nature of autism spectrum disorder. It also symbolizes how each of us contributes to the overall mosaic of our society. Every piece has a role and every piece has a fit.
We donate two dollars from every pair sold to our two charity partners: The Autism Society of America (Nassau/Suffolk Chapter) and Autism Speaks. The donation to our charity partners is part of our overall Giving Back program which includes donating 5 percent of our earnings to the Special Olympics. You can see and buy the Autism Awareness Socks here.
More than Socks: Employing People with Autism
John's Crazy Socks was founded by the father-son team of John and Mark Cronin. John is a 21-year-old man with Down syndrome so it is only natural that when considering employees, we welcome people of all abilities and focus on what they can do, not what they cannot. We are a small and growing business. Out of our 20 current employees, four (20 percent) have autism spectrum disorder. Each plays a critical role and collectively they have enhanced our business. Our co-founder, Mark X. Cronin, has written an article explaining why we hire people on the autism spectrum and why it helps our business.
Mark writes, "Hiring someone on the autism spectrum or any individual employee is not an isolated act. It fits in with our overall mission, culture and operations. Doing so hinges on two factors: respecting a person's right to work – a human right – and matching that to our business needs." Our business succeeds because we hire people with autism.
About John's Crazy Socks
John's Crazy Socks was co-founded and inspired by John Cronin, a young man with Down Syndrome, and we have a mission to spread happiness through socks. We offer over 1,200 different socks that people can love: beautiful, colorful, fun and crazy socks that let people express their passions and personalities. We deliver the socks through fast and personal service and every package includes some candy and a thank you note from John. The company ships world-wide, but John still makes personal local deliveries. John says, "I like to meet our customers and make them happy."
You can learn more about John and John's Crazy Socks at our website and our Facebook page..