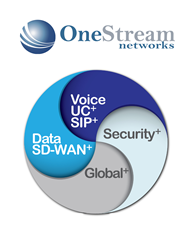 OneStream's global managed services provide customers with an opportunity to transform their business communications and data networking to achieve agility, competitiveness, compliance and responsiveness.
Rochester, NY (PRWEB) April 10, 2017
OneStream Networks, a leading global managed communications service provider, today announced that it will offer software-defined WAN (SD-WAN) and Security (SD-Security) solutions to channel partners and enterprises, leveraging Versa Networks software as part of its global services network.
This new offering is a carrier-grade solution, built for the enterprise, and in particular large multi-site national and global customers. The new SD-WAN+ and Security+ service offers advanced network design flexibility, application intelligence, zero-touch provisioning and layered security over both public and private WANs.
Through its management portal, OneStream provides a premium user experience with real-time access to application routing, network performance, next-gen firewall settings and advanced network analytics. Combined with OneStream's global cloud communications and voice architecture, SD-WAN+ and Security+ extend OneStream's reputation as a market leader, providing customers with a comprehensive suite of managed network, communications, voice and security services.
"We have a vision of enabling our customers to drive business transformation through the cloud, creating new opportunities for their growth, agility and competitiveness," said Trey Smith, CEO of OneStream Networks. "This means continuing to innovate and integrate best-of-breed solutions, like Versa Networks SD-WAN and SD-Security, into our worldwide infrastructure and, just as important, ensuring the highest quality customer experience through our global customer service and support."
"Combined with our existing zero-outage global voice capabilities, our SD-WAN+ service offers the global enterprise a hardened, carrier-grade cloud-based voice, data and security solution that touches every open market around the world," said Brian Skidmore, CMO of OneStream Networks. "This offers our customers the best option for multi-vendor and telco replacement on a global scale, with best-of-breed secure voice and data capabilities."
"As cloud adoption accelerates, enterprises will leverage application-aware and software-defined networking to ensure their WAN is agile, secure and aligned with their strategic IT vision," said Mark Weiner, CMO of Versa Networks. "Combined with OneStream's global voice offering, this is the right solution at the right time for channel partners to support their enterprise customers' cloud evolution."
About OneStream Networks
OneStream Networks is purpose-built for enterprise-grade cloud-based SIP trunking, unified communications, contact center services, data networking and security services. With availability in 100+ countries, global strategic peering networks, geo-redundant POPs and multi-provider SD-WAN and MPLS transport options, OneStream delivers unparalleled scope and reach for advanced cloud-based voice, UC, data and security. OneStream has become the standard for enterprise customers, VARs, and agents looking to create cost-savings, consolidation, vendor reduction and simplified management for single site and multi-site, multi-national applications. Customers and VARs/Agents count on OneStream for certified voice and data solutions and best-in-class performance, reliability and support. For more information, visit http://www.onestreamnetworks.com.
About Versa Networks
Versa Networks is an innovative vendor of software-defined networking. Versa provides a unique and carrier-grade SD-WAN and SD-Security solution that is purely software-based and fully multi-tenant. The solution provides a wide range of networking and security functions that runs on standard x86 white box appliances, private clouds and public cloud. Versa SD-WAN and SD-Security are deployed by large service providers as well as several large enterprises. The company is backed by premier venture investors Sequoia, Mayfield, Artis and Verizon Ventures. For more information, visit http://www.versa-networks.com.