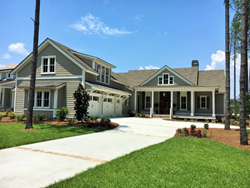 The uptick in both build activity and real estate sales in the southeast U.S. market is noticeable, consistent and being reported by our colleagues throughout the region.
Bluffton, SC (PRWEB) April 11, 2017
Marian Schaffer, Principal and Founder of Southeast Discovery, a real estate consulting firm specializing in guiding Baby Boomers with their real estate needs in the niche markets of retirement relocation and second homes in the Southeast region, reports that home builder confidence in the Southeast U.S. market is on the uptick as President Trump has taken action on regulatory reform and rolled back strict environmental rules.
"There are several factors under a Trump presidency that bode well for real estate, which translates to home building confidence," said Schaffer. "One; if there are fewer business regulations, this will allow lenders to be more liberal with their underwriting standards and allow more nontraditional lenders to enter the residential lending markets. Two; Trump is big on 'buy American, hire American' which equals jobs, jobs and more jobs. A healthy employment market translates to a healthy real estate market. If people are working, they can afford to buy a home. And three; an increase in consumer confidence means consumers will spend money, including, of course, buying new homes."
As National Association of Home Builders (NAHB) Chairman Granger MacDonald, a home builder and developer from Kerrville, Texas stated in a March 15, 2017 NAHB press release, "Builders are buoyed by President Trump's actions on regulatory reform, particularly his recent executive order to rescind or revise the waters of the U.S. rule that impacts permitting."
The NAHB release stated that builder confidence in the market for newly-built single-family homes jumped six points to a level of 71 on the National Association of Home Builders/Wells Fargo Housing Market Index (HMI), its highest reading since June 2005.
Schaffer confirmed that builder confidence among her colleagues in the Southeast real estate market is on the upswing, and shared information about new builds from the following Southeastern master-planned communities:
WaterWays Township in Richmond Hill, Georgia: 55 new builds were completed in 2016; 34 homes are currently under construction as of early 2017. Demand for lots from builders is strong, and WaterWays Township is currently developing 2 new neighborhoods with a total of 102 new lots to meet the demand in 2017.
Reynold's Lake Oconee, 80 miles east of Atlanta, Georgia: 64 homes were completed in 2016; 70 are currently under construction in 2017. Schaffer pointed out, "All the new builds in this community are custom, build-to-suit homes, not spec builds, which means each new home is already spoken for."
Brunswick Forest, located in the southeastern coastal town of Leland, North Carolina: Currently has 150-200 builds in progress.
Hampton Lake, a coastal community near Hilton Head Island, South Carolina: 88 homes were built in 2016, with 18 in architectural review. The number of total completed homes is 654 since the community started in 2006, a 29% increase in construction year-over-year.
Big Canoe, a mountain community one hour north of Atlanta, Georgia: 32 new home builds in 2016; 5 so far, as of early 2017.
Blacksmith Run in the Western North Carolina town of Hendersonville: 8 new builds completed in 2016; 3 new builds completed so far in 2017; 11 new homes currently under construction.
Bill's Mountain, located 5 minutes from Lake Lure in Western North Carolina: 2 new builds completed in 2016; 7 builds currently under construction in early 2017.
Rockledge in Western North Carolina's Bryson City: 2 builds in 2016, with 2 builds currently in progress as of March 2017, with a third soon to be started.
"These data numbers are reflective of just a handful of the communities we communicate with on a regular basis" Schaffer said. "This uptick in both build activity and real estate sales is noticeable, consistent and what each of our colleagues throughout the region is reporting."
If you're considering relocating to the Southeast but don't know how or where to start your search, we can help. We've been assisting folks who come to our site from all over the U.S. streamline the process so they can find the right area and community to call home in the Southeast for over a decade. Feel free to complete our complimentary online questionnaire here, and we'll send you feedback on the best areas and specific communities that may be just right for you.
About Southeast Discovery
Since 2004, Southeast Discovery has been a trusted resource for candid information and insight on communities, developments, and general real estate in the Southeast. Through its highly-ranked web portal, newsletter and blog and its one-on-one work with clients, Southeast Discovery helps buyers actively looking for a retirement or second home in the Southeast navigate the process of identifying the right area and community for their needs. To learn more, visit http://www.southeastdiscovery.com/