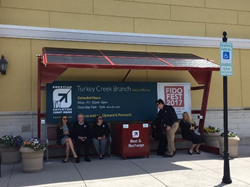 "Our products are totally off the grid" Vendomax President Rob Creswell explained. "We are so happy to be working with Knoxville TVA Employees Credit Union to further their green initiatives, we just appreciate the opportunity."
KNOXVILLE, TN (PRWEB) April 11, 2017
VendoMax unveiled a new Solar Z charging station at the Pinnacle at Turkey Creek shopping center in Knoxville. Commissioned by the Knoxville TVA Employees Credit Union to provide a "Rest and Recharge" solar station for Turkey Creek shoppers, the installation provides a welcome marketing vehicle for the credit union by providing marketing collateral, a shaded rest area, and a phone/tablet charging station for the public that is even lighted for night use.
"We are extremely pleased with what VendoMax was able to provide the Knoxville TVA Employees Credit Union," said Rob Creswell, President of VendoMax, a Chattanooga-based solar marketing provider. "The VendoMax Solar Z is not only able to provide the public a place to 'rest and recharge,' but it also allows the credit union a great marketing platform in a grid-free sustainable environment."
The new VendoMax "Rest and Recharge" installation was unveiled at a ceremony on Friday, April 7, attended by Knoxville TVA Employees Credit Union staff, VendoMax owners, and the public. "This is a great partnership between the credit union, VendoMax, and the Pinnacle at Turkey Creek shopping center," said Glenn Siler, President and CEO of the credit union. "It is the first of its kind in Tennessee and we are very proud."
About VendoMax: VendoMax, LLC, located in Chattanooga, TN, is an innovator and provider of marketing and vending products that are solar powered and grid-free. The company pairs its solar solution to the marketing needs of the client in the form of lighted marketing collateral, solar powered charging stations, solar vending machines, and a myriad of other marketing offerings. VendoMax products allow its clients to make a statement towards a commitment to energy-saving sustainable marketing and services to their customers. More information may be obtained through info(at)VendoMaxSolar(dot)com