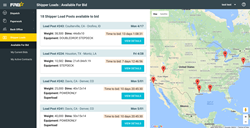 We believe the United States truck freight market operates most efficiently when carriers and shippers work directly with one another.
Oakland, CA (PRWEB) April 11, 2017
FR8 Revolution, Inc., an Oakland based company that develops free cloud-based tools to improve efficiency in freight transportation, has launched a fully integrated booking and dispatch platform for open deck loads at http://www.fr8star.com. With a focus on heavy haul and open deck, FR8Star offers a marketplace where carriers can bid on loads, book directly with shippers, and manage their fleet all in one platform.
A free FR8Star account provides the same functionality as many paid applications and more. For example, users directly access FR8Star's load marketplace which includes a unique, patent-pending rate calculator for pricing oversize/overweight loads, including up-to-date state permit fees and escort costs. Shippers can also access the calculator for free. No commercial software provides a similar tool.
To use FR8Star's free software, a carrier goes to http://www.fr8star.com, sets up an account and begins operating. The carrier can submit quotes for loads in the FR8Star marketplace and track those quotes.
When they book a load, it automatically appears in the carrier's Dispatch Cockpit display. Carriers can also enter loads manually to manage freight from sources other than the FR8Star marketplace. More free software features include document management and databases of customers, relevant locations, and company equipment.
For decades, brokers have facilitated transactions between shippers and carriers. But with 16,000 brokers serving more than half a million trucking companies, the industry is highly fragmented and pricing information is not evenly distributed. Broker interaction can increase this lack of pricing transparency resulting in higher rates for shippers and lower rates for carriers.
FR8Star brings shippers and carriers together without a broker middleman. The company charges a conservative fee only when a load is booked and the fee is clearly displayed beforehand. That cost is significantly less than typical broker fees and is split between shipper and carrier.
"We believe the United States truck freight market operates most efficiently when carriers and shippers work directly with one another," said Matthew Kropp, CEO of FR8 Revolution. "Given our patent-pending heavy haul rate calculator and our experience in the heavy haul market, focusing on this underserved space was an obvious decision," he continued.
"We designed FR8Star to help carriers run their businesses more efficiently while providing better service to shippers. By allowing carriers and shippers to both contract directly and share real-time information about loads, FR8Star helps each side to make more profit while eliminating the need for a pricey middleman."
The company's fleet management features are designed for small-to-medium sized carriers (between 2 and 200 trucks) and aimed at helping carriers get more work done in a fraction of the time it currently takes. This includes driver schedule optimization, load tracking, document management, and other features designed to optimize driver retention and customer service. Users can create a free account at fr8star.com and they only pay a fee when they transact with a shipper or upgrade to the company's premium fleet management services.
"The FR8Star platform is a major upgrade to the free fr8.guru service launched a year ago and has been the result of a deep collaboration with our early customers and our VW-MAN and Velocity Vehicle Group strategic partners," said Matthew Kropp.
About FR8 Revolution
Founded in 2015, FR8 Revolution builds data-driven, cloud-based tools aimed at reducing inefficiencies in the $726B US trucking market that result in lost revenue, more pollution and traffic, and poor working conditions for the 3.5 million drivers it employs. FR8's tools help carriers manage their fleet schedules, identify available capacity on freight truck routes, and sell this capacity to shippers that need it. The platform allows shippers to manage and track their spot loads in real time and the FR8 mobile app provides truck drivers with tools to manage their life on the road.
At FR8, we have a passion to lead the digital revolution driving change in the industry that drives our economy.