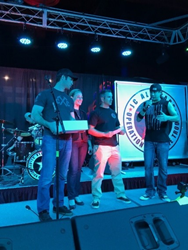 Dallas, Texas (PRWEB) April 10, 2017
CxC Co-Founder, Cris Valley, presented Geoff Dardia with a check during the concert at Fort Bragg saying, "Geoff, you and TF Dagger have been a part of Coast X Coast since year one. In Northern Iraq during 2014, Jason Buck and I dreamed up this idea because we wanted to honor our fallen brother, Ryan Savard, in a unique and worthy manner. Your mission with the SOF Health Initiatives is to develop unique, functional medicine treatment plans worthy of our SOF Brothers. It is a natural fit as a mechanism to honor Ryan."
On the initial Coast X Coast Ride for the Fallen in 2014, Cris rode a 1974 BMW R-90 from Santa Rosa, CA to Ft Bragg, NC primarily solo with a small support team from Mullikin Law Firm driving in tow. For Cris and the team, it was an emotional journey, traveling 3,500 miles visiting seven veteran-owned or veteran-related venues to host fundraisers. At each stop, they visited with Gold Star Families and supporters. Cris commented, "During the ride, I was smiling thinking of Ryan the whole time."
In 2015, the Ride for the Fallen grew more organized with a bigger trailer, more riders, more stops and more sponsors. In year two, the ride ended at Arlington National Cemetery on September 11th with Ryan Savard's family leading the way. The culmination was very emotional for all those attending and Cris and his team realized that they had something very special in the cross-country Ride for the Fallen and decided to take the steps necessary to make the Coast X Coast Foundation its own 501(c)3.
Chris spoke about this past year's Ride for the Fallen at the concert saying, "2016 was our biggest ride to date. Not only did we have five honorees, we had representation from their families at each stop along the route. We were honored to have Bob Kaiser, the father of Captain Andrew Pedersen-Keel and founder of APK Charities, along for the entire ride. Alexandra McClintock, and the entire McClintock family, Ashley Wheeler, Samantha Savard and Ryan's family in Tucson, Retired Col. Mark Roland…it was humbling to see these Gold Star Family members come out to share the story of their loved one with us and others.
In 2016 we spent 17 days on the road stopping at eight venues along the 4,400-mile route, with eight riders going the full distance of the Coast X Coast Ride for the Fallen.
From the beginning my goal was to honor Ryan while helping SOF Service Members. It has taken some time to reach this point. Without your compassion, Geoff, and love for my efforts we would not be here. I say this with my heart in my throat overwhelmed because of your support."
Thank you for your continued support of the Coast X Coast Foundation's mission. This check for $35,000 is so much more than just a donation. We are enabling between 15 and 30 Special Operations Service Members to receive treatment through the SOF Health Initiatives Program and Task Force Dagger Foundation for functional medical treatments not covered by the government. We are making a difference in the lives of the SOF brotherhood – exactly what Ryan would have wanted."
For more information on Task Force Dagger Foundation's SOF Health Initiatives program.
For more information on the Coast X Coast Foundation, please visit them at coastxcoast.org
Keith David, Managing Director of the Task Force Dagger Foundation commented, "We will put as many SOF Service Members through our SOF Health Initiatives Program beginning with the Cleveland Clinic Center for Functional Medicine. We are very grateful to Cris and the Coast X Coast Foundation for their support and allowing us to be part of their team. We are stronger because of team mates like Coast X Coast."
ABOUT TASK FORCE DAGGER:
The Task Force Dagger Foundation's three core programs: (1) Immediate Needs, (2) SOF Health Initiatives, and (3) Recreational Therapy Adaptive Events provide resources and healing for Special Operations Forces (SOF) members and families. Our SOF Health Initiatives provides program recipients care and treatment that is designed to treat the problem and not the symptom through functional medicine and other treatment modalities that are holistic in nature. Task Force Dagger Foundation supports Army Green Berets, Rangers, Civil Affairs, Military Information Support Operations, Army Special Mission Units, Navy SEALs, Air Force Special Tactics/Operations and Marine Special Operations and their families. These are some of the units that comprise the US Special Operations Command.
Since 2009, we have supported USSOCOM with over $3.4M dollars of support to 3,200 SOF service members and their families. The Task Force Dagger Foundation's overhead rate is 7.57%.
For more information, please contact the Task Force Dagger Foundation Office at (214) 785-7559 or via email or visit us on the web at http://www.taskforcedagger.org.