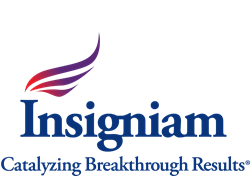 Philadelphia, PA (PRWEB) April 12, 2017
Insigniam, an international management consulting firm specializing in innovation, breakthrough performance, and corporate culture, is dedicated to elevating women leaders in the workplace since its inception over thirty years ago. In accordance with this commitment, Insigniam regularly partners with organizations who share its vision of achieving gender parity in the workforce.
Bonnie Wingate, partner with twenty-four years at Insigniam and based out of Philadelphia, has been elected to serve as the HBA Greater Philadelphia president for 2017.
"The Healthcare Businesswomen's Association has connected me with some of the most driven and professional women I've ever met in my nearly four decade professional career. It's empowered me to make a bigger difference in the lives of women who are dedicated to elevating their prowess, status, and the impact they make at work," said Ms. Wingate.
June Zeringue, a long-time consultant with Insigniam, based out of New Jersey, has been appointed the regional chair of the newly formed HBA NY/NJ Region, the association's largest region, which includes three chapters in the NY/NJ area.
"It's an exciting time to be involved with the HBA," said Ms. Zeringue, "the entire association is going through a transformation, and I see my work as regional chair of the largest chapter to be critical in that transformation's success. The new regional model will provide more local opportunities for members and volunteers to form valuable connections and develop themselves as leaders in healthcare."
Insigniam has continuously supported the Healthcare Businesswomen's Association (HBA) for more than ten years.
"The HBA's core purpose is 'to further the advancement and impact of women in the business of healthcare' and we at Insigniam see immense possibility in that purpose," said Shideh Sedgh Bina, a co-founding partner at Insigniam and 2014 HBA Woman of the Year. "It is our view at Insigniam that including women powerfully in leadership positions will be a GameChangerSM for the enterprises they serve. Furthermore, we see our breakthrough consultants' involvement in leadership positions at the HBA to be the realization of Insigniam's commitment to advancing women's impact in the workplace."
About Insigniam
Insigniam has over 30 years of experience working with large, complex organizations in generating breakthroughs in their management results—whether that be in topline growth, strategy implementation, improving profitability, or culture change. Insigniam pioneered the field of organization transformation by marrying breakthrough performance and innovation, thus creating services and solutions that are unparalleled in their potency to quickly create dramatic growth. Clients have documented, in aggregate, more than 50x ROI in management results considered critical and essential to the success of their enterprises. Insigniam solutions include Enterprise Transformation, Breakthrough Projects, Transformational Leadership, and Managing Change. Offices are located in Hong Kong, London, Los Angeles, Paris and Philadelphia.
To learn more about Insigniam and its breakthrough consultants, visit them online at http://www.insigniam.com.
About the HBA
The Healthcare Businesswomen's Association (HBA) is a global nonprofit organization serving a community of women and men in leading life sciences, biotech, pharmaceutical and supporting companies. The HBA has nearly 120 Corporate Partners and nearly 8,000 members served by more than 20 chapters and affiliates across the US and Europe.