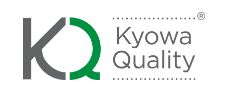 New York, NY (PRWEB) April 11, 2017
Kyowa Hakko Bio is an international health ingredients manufacturer whose primary goal is to provide health solutions that supports optimal health for improved quality of life. Pioneers in the development and application of patented fermentation technology, Kyowa's ingredients meet the most demanding quality assurance standards in place within the dietary supplement, health food, cosmetic and pharmaceuticals industries. Kyowa Hakko represents a line of well-researched, branded ingredients and an extensive line of quality-assured, ultra-pure amino acids that are guaranteed with the Kyowa Quality name or seal.
The brand essence behind the Kyowa Quality® is Nature, Health and Science. Nature: Kyowa's products are plant based, produced through a natural fermentation process. Health: contributing to the health and well being of people around the world. Science: scientifically tested and provide world class quality. For over 60 years Kyowa has been at the forefront of research and development of high quality ingredients.
In recent years the advent of the internet has allowed consumers to become increasingly knowledgeable and they are now looking not just for brands name they know but also for key ingredients from manufacturers they can trust. "No one is positioned better to help consumers find products containing Kyowa ingredients than Kyowa. We have therefore announced the launch of http://www.KyowaQuality.com, a new website for products containing our ingredients and backed by our Kyowa Quality mark." said Elyse Lovett, Marketing Manager at Kyowa Hakko USA.
The site features Kyowa's line of Kyowa Quality ingredients as well as products that hold the KQ Logo from around the world. Kyowa's Quality ingredients include strategically branded ingredients and amino acids, pharmaceutical-grade ingredients, food-grade ingredients and industrial grade ingredients. For more information about the Kyowa Quality website, click here or contact your local Kyowa representative office.
About Kyowa Hakko Bio Co. Ltd
KYOWA HAKKO BIO employs leading-edge fermentation technology to develop innovative manufacturing processes for producing various useful substances and is offering ingredients ranging from amino acids, nucleic acid-related compounds, vitamins, organic acids to oligosaccharides and dipeptides globally to customers in the pharmaceutical, nutrition and healthcare markets. Our primary objective is to organically integrate fermentation and synthesis by fully leveraging the fundamental technological capabilities, human resources and assets we have developed and perfected since pioneering the method to manufacture Glutamic Acid by fermentation 60 years ago.
Contact us:
Japan
KYOWA HAKKO BIO CO., LTD.
Tel: 81-3-5205-7300
http://www.kyowahakko-bio.co.jp/english/corporate/network
North & South America
KYOWA HAKKO USA
Tel: 1-800-596-9252
kyowa-usa.com
Europe
KYOWA HAKKO EUROPE GmbH
Tel: 49-211-175 450
email: bio-chemicals(at)kyowa(dot)de
KYOWA HAKKO BIO ITALIA S.R.L.
Tel: 39-02-367-069-01
email: kyowa-bio(at)kyowa(dot)it
http://www.kyowa.eu
China & South East Asia
KYOWA HAKKO (H.K.) CO., LTD.
Tel: 852-2895-6795
email: china(at)kyowa-asia(dot)com
KYOWA HAKKO BIO (SHANGHAI) TRADING CO., LTD.
Tel: 86-21-6233-1919
email: china(at)kyowa-asia(dot)com
KYOWA HAKKO BIO SINGAPORE PTE., LTD.
Tel: 65-6732-7889
email: singapore(at)kyowa-asia(dot)com
India
Kyowa Hakko Bio India Pvt. Ltd.
Tel: 91-22-6725-3457
email: india(at)kyowa-asia(dot)com