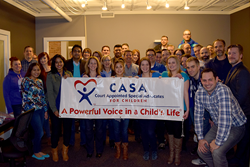 "Sentient is honored to be able to give back to our community through its most valuable resource – its children." - Sentient President & W2O Group Chief Digital Officer Adam Cossman
Morristown, NJ (PRWEB) April 10, 2017
Marketing agency Sentient (besentient.com), a W2O Group Company with 15 offices in the US and Europe, including an office with more than 65 employees in Morristown, NJ, is proud to announce its latest charitable efforts in support of Court Appointed Special Advocates (CASA) for Children of Morris and Sussex Counties, Inc.
"CASA is extremely meaningful to us because it brings comfort and safety to abused and neglected children right here in our own community," said Sentient President & W2O Group Chief Digital Officer Adam Cossman. "We work right here in the heart of Morristown. Many of us live and raise our families here. We see our kids in these kids. That's why Sentient is honored to be able to give back to our community through its most valuable resource – its children. Whether it's financial support, marketing expertise, or hands-on volunteering, we will do all we can to help further CASA's mission."
To celebrate CASA's Child Advocate Day on April 7, 2017, Sentient continued its annual tradition of going all-out for the Go Blue for CASA event. "I was touched and impressed by the enthusiasm and generosity of the Sentient team," said Sentient Managing Director, Operations Walter Stevenson. "It's a good feeling when your colleagues stop by and ask what more can they do to help the cause. And, because there is always more to be done, we're looking to deepen our commitment to CASA and other charitable organizations." As part of the Go Blue initiative, each staff member was encouraged to make a donation and show his or her support by wearing blue.
In addition to participating in CASA Child Advocate Day, Sentient also sponsors the annual CASA fundraising event. This year's event is CASA Casino Night, at the Park Savoy in Florham Park, New Jersey, on April 27, 2017, from 6:00-9:30 PM. It promises to be a fun-filled evening of games, delicious food, and networking while supporting advocacy for children in foster care. For more information on this event, please call CASA at (973) 998-7590.
ABOUT CASA
Started as a national organization in 1977, CASA programs soon arose in communities to address the needs of local children who have been removed from their homes or are under court supervision as a result of abuse, neglect, or abandonment. CASA trains community volunteers to advocate, mentor, and champion each child on her or his journey to a safe, permanent, and nurturing home. CASA volunteers also help ensure that each child has access to all of the services, including resources and programs, to which she or he is entitled. With approximately 950 US programs, CASA has helped more than 2 million children find safe, permanent homes in which they can thrive. For more information on CASA, please visit casamsc.org.
ABOUT SENTIENT
Since 2008, Sentient has provided services to clients in diverse industries, including life sciences, financial services, and consumer packaged goods. Sentient is now a part of the W2O Group, an independent, global network of marketing, analytics and communications firms delivering innovative integrated business solutions for the world's leading companies and brands. For more information on Sentient, please visit besentient.com.