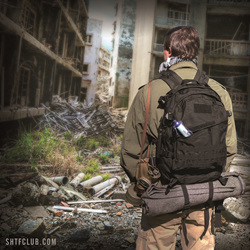 I really liked the first box I received, everything in it I can use for my ever growing survival kit. – Barry L. on Jan 06, 2017
MOULTRIE (PRWEB) April 12, 2017
On the Edge Brands always keeps its ear to the ground, especially, in today's uncertain world and, more and more, the news comes back that people need to be prepared for what's ahead. With that in mind, the SHTF Survival Box Subscription Service was formed to provide people with a guaranteed source of high-quality, readily available survival necessities each month. Each month members are conveniently mailed a box, effectively ending the need to search through the internet for the best survival gear ever again! Each month's survival box is thoughtfully put together with the intention of providing the highest-quality and most important gear needed for survival.
"No one understands customers' needs or are able to meet those needs better than we do. We take our customers very seriously, here, and want to provide them with the best gear possible at a price they can afford," said Clint Kadel, president of On the Edge Brands.
No other gear subscription offers its members the range of survival tools that are included in each SHTF Survival box. Everything thing from fire starters and hard-use tools to survival knives and hydration gear have been included in previous installments to members. The SHTF Survival box provides peace of mind because it takes the worry out of being adequately prepared for the future.
"Each month we are pleased to supply our members with a variety of important tools that can be added to their bug-out bag, emergency kit or prepper supplies," said Kadel.
There are three levels of subscription for customers to choose from, with each level offering a monthly collection of gear worth well over the monthly subscription rate. The Basic subscription for $19.99 per month is valued at more than $40; the Pro subscription for $49.99 per month is valued at more than $80; and the Elite subscription for $89.99 per month is valued at more than $120. New members get their first box shipped within 24 hours, and monthly boxes are shipped out on the 15th of every month, making it quick and easy for customers to stock up on the survival essentials throughout the year.
Here is what SHTF Survival Box members are saying:
"I really liked the first box I received, everything in it I can use for my ever growing survival kit." – Lance F. on Feb 09, 2017
"I have had many subscription boxes. I currently have two now. And this one will always be my go to. Keep up the good work!" – John F. on Feb 26, 2017
"A new member and I just got my first box yesterday. It was more than I had expected. I can easily put to use, everything that came in the box. A great value for those on a tight budget." – Barry L. on Jan 06, 2017
On the Edge Brands has spent years stocking the best knives and survival gear on the market and making it available to customers at an affordable price. The next logical step was to make it even easier for customers to get that gear. The SHTF Survival Subscription is a service that provides customers what they need, delivered right to their door-step – and that's the definition of customer service.
For more information or to subscribe to the SHTF Survival Box, visit http://www.shtfsurvival.com?source=SHTFBOX17.