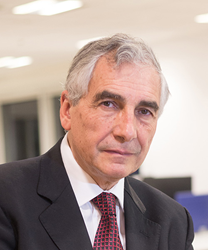 I'm proud to have the opportunity to help recognize those leaders that want to ensure sustainability plays a core part of their businesses
Mendoza, Argentina (PRWEB) April 12, 2017
Luis Robbio, Belatrix Software CEO and co-founder, has been invited to judge the Global Sourcing Council (GSC) 3S awards. The awards program recognizes organizations and leaders who help promote sustainable and socially responsible sourcing practices. It honors those enterprises that help create a positive social and environmental impact, as well as economic gains to the communities in which they operate.
Luis Robbio's participation continues Belatrix's history of working with the Global Sourcing Council, and also our strong focus on corporate social responsibility.
The judging process started in the early days of April and lasted for two weeks in which the judges evaluated regional applicants. The 3S Awards candidates will be attending a gala to be held at the United Nations headquarters on May 17th.
"I'm proud to have been chosen as one of the leading sustainability advocates, and to have the opportunity to help recognize those leaders that want to ensure sustainability plays a core part of their businesses" commented Luis Robbio.
About Belatrix Software:
Belatrix Software helps clients achieve the full impact of their R&D capabilities developing high quality, innovative software, QA, testing and mobile solutions that enables clients to generate best-in-class software products, decrease time to market, and gain competitive edge.
Belatrix's clients include both established Fortune level and emerging, venture backed firms. Some of the firm's clients are Disney, Adobe, SiriusXM, mFoundry, and Chatham Financial. Belatrix is a South American company with offices in Naples, New York, San Francisco, Mendoza, Buenos Aires, Bogotá and Lima. For more information, visit http://www.belatrixsf.com.