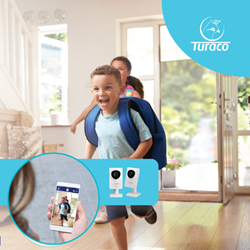 For those ISPs that want to offer customers a simple, low cost security solution
Lod, Israel (PRWEB) April 10, 2017
Magalcom, a market leader in IT infrastructure solutions and a subsidiary of the Telrad Group, has announced the launch of an entry-level product line expanding the Turaco product family. The introduction of Turaco Lite provides a comprehensive home security solution designed specifically to benefit service and security providers. The state-of-the-art solution is aimed to help providers quickly add and enhance security services to their portfolio without monthly subscription packages.
The Turaco Lite Security System is designed to complement the Turaco Classic family allowing customers a low cost entry point into the Turaco product family line. As in Turaco Classic, Turaco Lite is an IP-based solution which is managed through the Turaco Classic proven private cloud, with a simple DIY installation of the security hardware at the customer location.
The Turaco Lite solution offers numerous benefits:

Monitoring & Securing your home or business
Nanny Watch
Elderly parent monitoring
Watching your baby
Pet monitoring
Minding your loved ones
After School Alert
Panic Button on smart phone App generating a panic alert with GPS coordinates
The system allows providers to offer a platform from which customers can seamlessly upgrade to Turaco Classic at a low and affordable price thus enhancing customer retention and ARPU.
"For those ISPs that want to offer customers a simple, low cost security solution while providing a stepping stone into the Turaco product family as well as exhibiting their image as an innovator, the Turaco solution is the perfect fit," said Manny Kaiser, VP of International Sales at Magalcom during his keynote address at Securex. "Such a low-risk, low-cost, value-added service, which provides quick profits and customer retention is a unique opportunity and should not be overlooked."
The Turaco Security Solution was featured at West Africa's leading Security and Public Safety show, Securex, in Lagos, Nigeria, March 21-23 at the Telrad Networks Booth #B4.
About Magalcom
For over 35 years, Magalcom has been a market leader in building data centers, IT infrastructure, control rooms and homeland security solutions. With over 150 employees, the company has formed business partnerships with some of the prominent manufacturers and customers around the globe. Magalcom's diverse range of services provides the customer with a professional turnkey solution. (http://www.magalcom.com)
About the Telrad Group
The Telrad Group is a dynamic multinational group of companies providing specialized solutions and services that facilitate a wide range of IT and telecom projects. The organization has over 400 of the most "radically innovative" employees worldwide, serving customers in over 100 countries. Each company in the Group, including Magalcom, Oasis Technologies and Telrad Networks, operates autonomously under a common umbrella – backed by private equity fund, Fortissimo Capital.