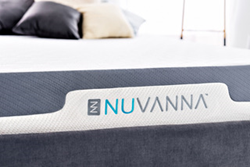 Philadelphia, PA (PRWEB) April 12, 2017
Nuvanna founder Alvaro Vaselli today announced that in recognition of the end of tax season and the stress that comes with it, customers can enjoy a $125 discount on a new mattress purchased from Friday, April 14 – Monday, April 17. Vaselli started online mattress retailer Nuvanna in January to offer the latest in mattress innovation and encourage consumers to live a life of balance and wellness, starting with a great night's sleep.
"We all know how stressful the dreaded annual tax deadline is, so we decided to allow folks to reward themselves with a discount on a product that will immediately help achieve a greater state of health and wellness – a supremely comfortable mattress delivered right to their door," said Vaselli. "We are thrilled with the 100% 5-star reviews we've received since launching in January and believe our customers appreciate our superior mattress shopping experience."
Customers should use promo code TAXDAY125 at checkout for flash sale savings. They also will receive a Nuvanna Branded Gratitude Journal free of charge, for a total promotion value of $175.
Vaselli added that Nuvanna now offers six months of interest-free financing through BlisPay, a valuable option to consider while waiting for a tax refund. Purchases can now also be made through Amazon.com.
In addition, Nuvanna is pleased to announce that it now ships to Canada and Puerto Rico.
Nuvanna sells its mattresses via direct-to-consumer sales on its website http://www.nuvanna.com. Its goal is to provide consumers with an easy, positive online mattress buying process to reduce the stress that comes with the typical mattress store shopping experience. A 100-night risk-free trial, free shipping, free returns, and a 10-year limited warranty help eliminate the high-pressure decision-making process consumers often undergo in brick-and-mortar stores. In addition, bypassing the middleman enables Nuvanna to offer its customers significant value, with prices at roughly a third of traditional retail stores.
About Nuvanna
Nuvanna LLC is an online startup that helps consumers live a more balanced life, beginning with a supremely comfortable mattress for a good night's rest — a key ingredient of a healthy lifestyle. Joining the rapidly growing online retail channel for sleep products, Nuvanna's premium offerings contain the latest innovations in sleep technology for exceptional comfort, quality, performance and durability. Founded in June 2016, Nuvanna draws its inspiration from Founder and CEO Alvaro Vaselli, a business leader and innovator in the material science and sleep products industry for over 20 years. For more information, visit http://www.nuvanna.com.
Contact:
Karen Murray
215-850-4645
kmurray(at)powersbc(dot)com