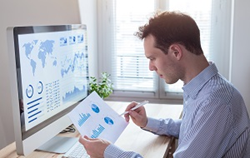 Boulder, Colo. (PRWEB) April 11, 2017
Enterprise Management Associates (EMA), a leading IT and data management research and consulting firm, today announced it will host a webinar titled "Five Critical Success Factors for Embedded Analytics," featuring Lyndsay Wise, research director of business intelligence and data warehousing at EMA, and Jake Freivald, VP of product marketing at Information Builders.
Organizations can make their operations and decision making more data driven by increasing their use of embedded analytics. Highly interactive analytical apps can be embedded into an employee's daily workflow to provide constant visibility into performance, alignment with strategic plans, and the flexibility needed to answer a variety of different questions. In addition, analytics can be embedded into customer-facing websites and mobile apps to deepen relationships and provide a better experience.
During this webinar, Wise and Freivald will look at both operational embedded analytics and customer-facing analytics to provide insight into why organizations should consider embedded analytics as part of their overall business intelligence strategy. Additionally, webinar attendees will learn:

How user expectations differ between traditional and embedded analytics
The barriers to adoption that embedded analytics can help overcome
How organizations can gain buy-in and sell the value to project stakeholders
Use cases and examples of operational and customer-focused embedded analytics
Technical requirements and differences of both operational and customer-focused embedded analytics
The webinar is Thursday, April 20 at 2:00 p.m. Eastern. Those who wish to attend can register at: http://research.enterprisemanagement.com/five-critical-success-factors-for-embedded-analytics-webinar-pr.html
About EMA
Founded in 1996, EMA is a leading industry analyst firm that specializes in providing deep insight across the full spectrum of IT and data management technologies. EMA analysts leverage a unique combination of practical experience, insight into industry best practices, and in-depth knowledge of current and planned vendor solutions to help clients achieve their goals. Learn more about EMA research, analysis, and consulting services for enterprise line of business users, IT professionals and IT vendors at http://www.enterprisemanagement.com or blogs.enterprisemanagement.com.