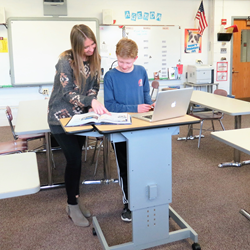 The Focus Desk is re-shaping the traditional classroom, helping students and teachers in very tangible ways. -- Nancy Dellamore, Marvel Focus Desk Product Manager
Chicago, IL (PRWEB) April 11, 2017
The Marvel Group has expanded its Focus Desk line, bringing the health and learning benefits of sit/stand desks to students from kindergarten through college. Originally conceived to support students with learning challenges like dyslexia and ADHD, the Focus Desk has caught on in the general population as an asset for all children and a versatile classroom tool for teachers.
As the mother of a boy with dyslexia, Marvel Product Manager Nancy Dellamore had first-hand knowledge of how difficult it was for her son to sit still in class. She believed that his fidgeting and squirming reflected a need for movement as part of his thinking process, an observation supported by research into ADHD, dyslexia, and other learning differences. Giving these students the option to stand delivers sensory feedback that promotes concentration and engagement.
Nancy took her idea for a stand-optional desk to teachers at the Hyde Park Day School in Chicago and Northfield, Illinois. Marvel's design and engineering team worked closely with Hyde Park staff and students to create a desk with a silent lift device that even young children could operate themselves. Named The Focus Desk, this innovative product also includes a variety of teacher-suggested features to help students organize materials, work collaboratively, and stay on task.
Launched in 2015, The Focus Desk for grades K-8 quickly attracted attention beyond the special needs community and became a popular option for mainstream settings. It accomplished multiple goals that applied to all children:

Children can move from sitting to standing without disrupting the class. Studies show that standing improves mental processing and learning.
Sit/stand desks also help fight childhood obesity, according to university research in the US and in Great Britain. Children who stand at desks burn calories in class and are less likely to be sedentary outside school.
The Focus Desk's height adjustability allows children to stand comfortably and with better posture compared to fixed-height standing desks.
A spacious storage compartment in The Focus Desk keeps devices, notebooks, and other items organized.
Rolling, lockable casters on The Focus Desk allow teachers to reconfigure classrooms quickly and easily for work groups, testing, and discussions.
Other classroom-inspired features include an expandable desk surface, integrated hanging folders, built-in privacy walls, and even a backpack hook to keep aisles clear.
These advantages led schools in 25 states to order the Focus Desk for their students.
In addition, Marvel responded to customer demand for a desk for older students with the 2016 introduction of the Focus Desk XT, a new version especially designed for high school and college use. The Focus Desk XT is scaled for taller students, with a wider work surface and rolling casters for collaborative work.
"The Focus Desk is re-shaping the traditional classroom, helping students and teachers in very tangible ways," notes Dellamore. "We started this journey with a particular type of student in mind, but quickly discovered that all children could benefit from classrooms that support non-disruptive, self-regulated movement. We're proud to offer schools a way to improve both the learning and the health of their students at any age."
To learn more about The Marvel Focus Desk, visit http://marvelfocusdesk.com.
About The Marvel Group
The Marvel Group is a 70 year-old Chicago-based manufacturer of a wide range of high-quality furnishings to large, small, and home office markets as well as the education market. Product lines range from office chairs and file cabinets to executive office furniture and open office work-stations. Marvel® products are manufactured to ISO 9001 certified guidelines and backed by a lifetime warranty. The Marvel Group offers superior customer service to assure a problem-free and timely project completion. For more information, visit http://www.marvelgroup.com.