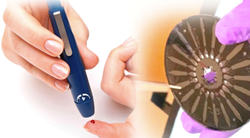 POC Medical Systems has as its mission to make cancer and infectious disease screening accessible and affordable on a worldwide basis.
Livermore, California, (PRWEB) April 12, 2017
POC Medical SystemsTM Inc. announced today that it has moved into its new and expanded 24,000 sq. ft. state-of-the-art facility.
POC Medical Systems which recently raised $ 21 million in Series A funding for clinical beta testing and initial commercialization of a rapid, portable breast cancer screening test, MammoAlert™ based on its Pandora CDx™ Microfluidics-based platform, recently unveiled its Platform technology the Pandora CDxTM and its Breast cancer screening test, "The MammoAlertTM" in India.
The Livermore facility opening was celebrated by a ceremony featuring Livermore Mayor John Marchand and staff members of U.S. Congressman Eric Swalwell. The event was attended by more than a 100 people, including local political and business leaders, members of the Livermore community, patient organizations, foreign government officials, POC Medical SystemsTM employees, as well as the Board of Directors of POC Medical SystemsTM and other key investors.
Congressman Eric Swallwell, recognized POC Medical Systems for its commitment and contributions to innovative healthcare solutions. Mayor John Marchand, who officially opened the facility, went on to say, "POC Medical SystemsTM is a fine example of the work which is happening in the trivalley and is a clear endorsement to innovative culture established by the 5 trivalley cities and the Labs through the city partner iGate (an incubator located in the heart of Livermore). Marc Goldberg, a member of the POC Board and Managing Partner of BioVentures Investors commented, "POC Medical Systems is addressing a significant global problem. Less than 4% of the women worldwide are screened today for breast cancer, a disease which is growing at an epidemic rate. This new facility will enable the launch of POC's innovative portable breast cancer screening test later this year". "Ramana Tadepalli, another member of the POC Board and President of 3S Ventures a Bay area venture fund, added, "This is an exciting phase for the company. During the recent unveiling of the MammoAlertTM in India, we discovered that there is no real early screening technology for breast cancer currently available in that country and this facility will ensure the first launch of the MammoAlertTM i which will be targeted at this particularly vulnerable population".
"The expansion of the new Livermore facility will help sustain the continued growth of POC Medical Systems Point of Care Diagnostics platform technology along with its MammoAlertTM test." said Sanjeev Saxena Chief executive officer of POC Medical Systems. "It will enable us to continue to fulfill our commitment to delivering of a lifesaving breast cancer screening test, the MammoAlertTM, to millions of women around the world."
The blood-based test is designed to enable breast cancer screening broadly in regions such as India, the site of the product's initial launch, where established screening methods are not widely accessible to large populations of women.
The MammoAlertTM test generates a result in 15 minutes. The test employs a mobile device such as a tablet that stores the data securely in the cloud, where it can then be shared remotely with doctors and healthcare systems. The test detects multiple cancer biomarkers from a drop of blood using advanced CD microfluidics based on a low cost microfluidic disk and then applies sophisticated algorithms to produce a result that can indicate if a woman needs follow-up testing and care.
POC Medical SystemsTM has as its mission to make cancer and infectious disease screening accessible and affordable on a worldwide basis. The company's technology platform resolves two key issues in modern medical diagnostics: geographic inaccessibility and cost prohibition. POC's ultimate goal with its technology platform is to help save millions of lives through early stage screening and detection, and in turn, significantly reduce medical treatment costs.
About POC Medical Systems
POC Medical SystemsTM Inc. is a California based company founded in May 2013 by Mr. Sanjeev Saxena and his team of highly experienced technology and biomedical engineering professionals. The Pandora CDxTM developed by POC Medical SystemsTM is a microfluidic platform for rapid, point-of-care serum screening. Based on a unique, low cost disposable microfluidic disk, the platform is a very simple and easy-to-use system which seeks to offer better healthcare screening solutions around the world.