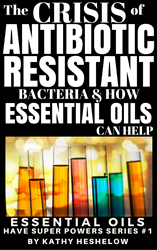 The situation of antibiotic-resistant bacteria is becoming more and more serious, and this book examines how, why and one potential solution.
St. Petersburg, FL (PRWEB) April 12, 2017
A new Kindle book is available today entitled "The Crisis of Antibiotic-Resistant Bacteria and How Essential Oils Can Help." The short book examines the growing "superbug" problem which the CDC has called a top public health concern.
"This is information that more people need to understand," says author Kathy Heshelow. "It is becoming dire, so much so that more common diseases may not be treatable with antibiotics soon."
MRSA (methicillin-resistant Staphylococcus aureus), also known as staph infection, has become the most common form of skin infection in the U.S. and leads to pneumonia, surgical complications and blood/bone infections. Two newer bacteria have emerged and are creating alarm in medical circles.
The book discusses two hospital cases of MRSA that were treated and eradicated using essential oils, helping the patients to avoid amputation.
Find the new Kindle book, part of the "Essential Oils Have Super Powers Series", here on Amazon now.
ABOUT THE AUTHOR: Kathy Heshelow has published a number of books, and her current focus is on wellness. This includes the "Sublime Wellness LIfestyle Series" (including Secrets to a Better Immune System, Turmeric for Wellness and more), and the "Essential Oils Have Super Powers Series". She is founder of Sublime Naturals and Sublime Beauty.
In addition, Heshelow has 18 years of knowledge and experience in the passive income commercial real estate world of NNN-1031. A new book on the subject is forthcoming in later April.