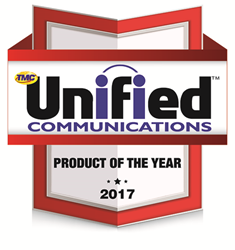 As we celebrate our 20th year anniversary in business, we are very honored to receive the 2017 Unified Communications Product of the Year Award from TMC
North Miami, Florida (PRWEB) April 12, 2017
IPFone announced today that TMC, a global, integrated media company helping clients build communities in print, in person and online, has named IPFone UC as a 2017 Unified Communications Product of the Year Award winner for third year in a row.
IPFone Unified Communications (UC) integrates services such as voice and video telephony, chat, presence, desktop sharing, call control, voicemail, SMS and fax. IPFone UC allows businesses and employees to communicate whenever, wherever and however they choose. IPFone UC can be accessible from any device including PC, MAC, smartphones and tablets.
"As we celebrate our 20th year anniversary in business, we are very honored to receive the 2017 Unified Communications Product of the Year Award from TMC," says Damian Chmielewski, IPFone's President & CEO. "We believe we can improve business productivity delivering a full range of unified communications and collaboration services. Thank you to TMC for recognizing our efforts and commitment to our customers".
"It gives me great pleasure to honor IPFone as a 2017 recipient of TMC's Unified Communications Product of the Year Award for their innovative product, IPFone UC," said Rich Tehrani, CEO, TMC. "Our judges were very impressed with the ingenuity and excellence displayed by IPFone in their groundbreaking work on IPFone UC."
Winners of the 2017 Unified Communications Product of the Year Award will be announced online and highlighted in INTERNET TELEPHONY magazine.
About IPFone
IPFone is a leading provider of Voice, Internet and Cloud Services for Business. IPFone boasts 20 years in business with more than 2,500 corporate accounts with deployments worldwide. The IPFone team dedicated to one goal and that is to be there for our customers resulting in exceptional customer experience. IPFone's solution is powered by BroadSoft, the world's leading developer of VoIP applications software along with Polycom and Cisco, the world's top manufactures of IP telephony products. To learn more about IPFone, visit us @ http://www.ipfone.com
About INTERNET TELEPHONY magazine
INTERNET TELEPHONY has been the IP Communications Authority since 1998™. Beginning with the first issue, INTERNET TELEPHONY magazine has been providing unbiased views of the complicated converged communications space. For more information, please visit http://www.itmag.com. Follow INTERNET TELEPHONY magazine on Twitter or join our Linked In group. Subscribe or visit http://www.itmag.com
About TMC
Global buyers rely on TMC's content-driven marketplaces to make purchase decisions and navigate markets. This presents branding, thought leadership and lead generation opportunities for vendors/sellers.
TMC's Marketplaces:
Unique, turnkey Online Communities boost search results, establish market validation, elevate brands and thought leadership, while minimizing ad-blocking.
Custom Lead Programs uncover sales opportunities and build databases.
In-Person and Online Events boost brands, enhance thought leadership and generate leads.
Publications, Display Advertising and Newsletters bolster brand reputations.
Custom Content provides expertly ghost-crafted blogs, press releases, articles and marketing collateral to help with SEO, branding, and overall marketing efforts.
Comprehensive Event and Road Show Management Services help companies meet potential clients and generate leads face-to-face.
For more information about TMC and to learn how we can help you reach your marketing goals, please visit http://www.tmcnet.com
Contact Media
Elizabeth Jorges
Sales & Marketing
305-573-5300 x1118
ejorges(at)ipfone(dot)com
TMC Contact:
Stephanie Thompson
Manager
203-852-6800, ext. 139
sthompson(at)tmcnet(dot)com