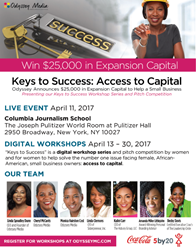 Staying in business can be tough without access to investors and a line of credit! I launched Keys to Success to draw attention to this issue and help raise money for these phenomenal women. - Linda Spradley Dunn, founder and CEO
New York, New York (PRWEB) April 11, 2017
Today, Odyssey Media and the Coca-Cola 5by20 program launched its Keys to Success: Access to Capital digital workshop series and business pitch competition with a live taping of the workshops. Speakers included Linda Clemmons, CEO of Sisterpreneur, Inc., Becky Davis, certified executive coach of The Leadership Group, Linda Spradley Dunn, founder and CEO of Odyssey Media, Theresa Harrison of EY, Candace Waterman of WBENC and more.
These and other award-winning, experienced business coaches led three targeted workshops which covered financial management, sourcing and securing funding, improving brand image, crafting a strong business plan, and preparing for the Keys to Success pitch competition. The winner of the optional pitch contest will receive $25,000 in expansion capital plus complimentary admission to the noted, exclusive, Odyssey Network Business Retreat.
"Multicultural women are opening small businesses at a faster rate than any other segment, and these women are putting Americans to work! Yet, even with this phenomenal success, staying in business can be tough without access to investors and a line of credit!" said Odyssey Media founder and CEO, Linda Spradley Dunn. "I launched Keys to Success to draw attention to this issue and help raise money for these phenomenal women."
Linda Spradley Dunn has more than 17 years of experience in inspiring minority women business owners to succeed. She understands the obstacles this demographic experiences when pitching their businesses, speaking to investors, and applying for credit lines or traditional loans.
According to Small Business Administration data, women of color have consistently been the fastest-growing segment of small business owners and entrepreneurs. Their businesses are also highly likely to fail for one reason: lack of access to capital. Though the Keys to Success digital workshops are open to all, the program aims to support women of color business owners and entrepreneurs who face this and related obstacles to keeping their businesses afloat.
The Keys to Success: Access to Capital program will empower participants with the knowledge, tools, and support needed to overcome these barriers. The workshops are designed for all small business owners regardless of years in business or ethnicity. To be eligible for the $25,000 expansion capital pitch competition, participants are required to view the workshop series, must have been in business for at least three (3) years, and must have or be in the process of applying for Minority Woman Business Enterprise (MWBE) certification from the National Minority Supplier Development Council (NMSDC) or their state. The contest submission deadline is midnight on May 5, 2017. The top three finalists will present their pitches to a panel of judges at the Odyssey Network Business Retreat on Amelia Island, Florida in May.
The Keys to Success workshops will become available as webinars to registered participants from April 13 – 30. Interested business owners and prospective competitors can register on the website.
###
Odyssey Media
Odyssey Media is a marketing & communications company focused on connecting and empowering influential and affluent multicultural women around the world. Odyssey's unparalleled blend of conferences, business retreats, boot camps, philanthropy initiatives, digital forums, resources, adventure activities, and networking opportunities has helped us amass a database of thousands of women.
The Odyssey community includes: multicultural female corporate executives, attorneys, physicians, entrepreneurs, small business owners, educators, community leaders, spouses, retirees, and women in transition who are key decision makers and need to stay connected.
Follow Odyssey Media online:
Keys to Success
http://www.odysseymc.com
Facebook.com/OdysseyMediaCo
Twitter.com/OdysseyMediaCo
Instagram.com/OdysseyMediaCo