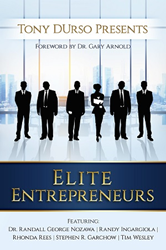 I'm very pleased to be honored as an Elite Entrepreneur among this great group of people. Also, the "Check Your Books" PSA awareness campaign in April is a very important cause for authors and publishers.
Agoura Hills, CA (PRWEB) April 12, 2017
Springtime has been a busy season for public relations expert Rhonda Rees, as she is a featured author in the newly released book, Elite Entrepreneurs presented by the popular radio podcast host Tony DUrso, from Higher Purpose Publishing, with a forward by Dr. Gary Arnold.
Rees appears in a chapter highlighting PR, and offers her down-to-earth advice and practical suggestions, providing expert tips for readers. (Proceeds from sales go to help animal wildlife in South Africa.) She is also the author of the award-winning book, Profit and Prosper with Public Relations®: Insider Secrets to Make You a Success. https://www.amazon.com/Profit-Prosper-Public-Relations-Rhonda/dp/0982223501
According to Tony DUrso, "I reached out to a select group of Elite Entrepreneurs that I felt are true advocates for the success of their customers and community, while at the same time committing to spread the word about the great Kevin Richardson Wildlife Sanctuary. http://www.lionwhisperer.co.za. The book is now available on Amazon, hitting their best-seller lists: https://www.amazon.com/Tony-DUrso-Presents-Elite-Entrepreneurs-ebook/dp/B06XHNX7QZ .
Another new development is the second annual "Check Your Books" PSA campaign for the month of April that Rees had originally orchestrated last year. This was an answer to the ongoing issue of online book piracy that is quite prevalent today in cyberspace. She had been honored as the Publicist of the Year by the prestigious Bulldog Reporter publication, for her efforts to help bring more awareness to this very silent type of crime -- one that doesn't leave any fingerprints.
Once again, Rees is naming the month of April to coincide with World Book and Copyright Day (April 23) organized by UNESCO, and World Intellectual Property IP Day (April 26), established by the World Intellectual Property Organization (WIPO). She is emphasizing this time of year for authors and publishers to run detailed Google and/or Bing searches and plug in the title of their books, the author's name, and the word "free downloads" to see what comes up.
In addition, April 22nd-23rd is also the annual Los Angeles Times Festival of Books on the USC campus. "This is another great opportunity for people to 'check their books', and then see what happens," states Rees.
She has also written an article for the Small Publishers Artists and Writers Network (SPAWN), April newsletter: http://spawn.org/online-book-piracy/ that outlines what authors and publishers can do, should they find themselves in this very unwanted situation.
According to the Association of American Publishers, the industry as a whole has lost $80 to $100 million dollars to online piracy annually. From 2009 to 2013, the number of e-book Internet piracy alerts that the Authors Guild of America had received from their membership increased by over 300%. During 2014, that number doubled, and in 2017, so far the figures are much higher.
Rees has regularly appeared as an online book piracy awareness advocate on TV, radio and in print. In addition, she has given a webinar on the topic for the Independent Book Publishers Association (IBPA). Rees has also gotten the attention of the US Chamber of Commerce, Global IP Center, the Authors Guild of America, the Copyright Clearance Center, IP Watchdog.com, the Book Publicists of Southern California (BPSC), the MUSO Company, the Piracy Trace Business, and the Counterfeit Report Company, among others.
To round out the month, she has also joined the International Women's Writing Guild. Their mission is to foster the personal and professional empowerment of women through writing. https://iwwg.wildapricot.org/
For further information, or to get involved in the cause against online book piracy, contact Rhonda Rees through her website at: http://www.rhondareespr.com/ or on LinkedIn: https://www.linkedin.com/in/rhonda-rees-8a803162/ Facebook: https://www.facebook.com/ProfitandProsperwithPR/?ref=bookmarks
or Twitter: @ReesRhonda.