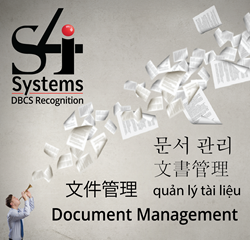 San Clemente, CA (PRWEB) April 11, 2017
S4i Systems, Inc. is pleased to announce that Double Byte Character Set (DBCS) recognition is now supported across their Enterprise Content Management (ECM) solutions. DBCS is required to support Asian languages including Chinese, Japanese, Korean, and Vietnamese. Its inclusion allows existing clients to manage documents in these languages to support international initiatives. Accordingly, international organizations, particularly those in Asia, will be able to utilize S4i Express and S4i Express NG to their fullest potential.
The inclusion of DBCS does not change any of the existing functionality for either product. Customers will continue to utilize the user-friendly interfaces of S4i Express NG, S4i Express and Desktop Capture to capture their documents and facilitate content management throughout their organizations.
About S4i Systems: Providing document management and business process automation tools for enterprise environments since 2002. We support the document lifecycle from capture through archiving to meet regulatory requirements. S4i Systems simplifies business with automated Enterprise Content Management tools, optimized workflows that reduce labor overhead, and 24/7 support you can rely on.