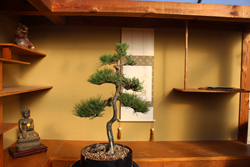 Bellingham, MA (PRWEB) April 14, 2017
BonsaiOutlet.com is significantly expanding their operations through the purchase of the well-respected bonsai nursery New England Bonsai Gardens. In just a few short years, Bonsai Outlet has risen to the top of American bonsai tree providers, feeding a growing love of this ancient past-time in the United States and beyond. Their combination of high-quality trees, affordable prices, and expert staff have made them the go-to source for millions of bonsai tree newcomers and enthusiasts alike.
New England Bonsai Gardens has been growing expert-quality bonsai trees for thirty years while continuously expanding. As of writing, they have an eight-acre nursery in Bellingham, MA, complete with eight separate greenhouses. They are widely regarded as having one of the most comprehensive and beautiful selections of bonsai trees in the nation.
This acquisition creates perfect synergy with BonsaiOutlet.com, allowing the internet retailer to further improve both the quality and the variety of their offerings.
In addition, New England Bonsai Gardens regularly hosts a wide variety of bonsai experts for training sessions and workshops, whose appeal and outreach will now be greatly expanded via their new relationship with BonsaiOutlet.com.
All in all, this new acquisition presents an excellent opportunity for Bonsai Outlet as well as New England Bonsai Gardens. Bringing these two bonsai powerhouses together will mean a greater combination of resources for bonsai lovers across the nation, as well as more ways for both to expand their operations in years to come.
About New England Bonsai Gardens
Founded in 1987 by using a single rented greenhouse, New England Bonsai Gardens has grown over the years to be among the top growers of bonsai trees in the nation. New England Bonsai Gardens regularly imports trees and cuttings from across Asia, as well as having contacts with west-coast growers as well. Their dedication and love of the art of bonsai is known across the industry, and will be enhanced through their new partnership with BonsaiOutlet.com.
About BonsaiOutlet.com
BonsaiOutlet.com was created by notable New England-based entrepreneur Ashley R. Carrier. Like many great business ventures, it began simply - his wife gave him a bonsai tree for his birthday, and he quickly discovered a love for the ancient art. This led to the founding of BonsaiOutlet.com, and through Ashley's own unique business acumen, it quickly grew into the largest online retailer of bonsai trees in the United States. Over the years, thousands of people have been introduced to bonsai cultivation via BonsaiOutlet.com, and through it all, Ashley's original tree has continued to thrive.