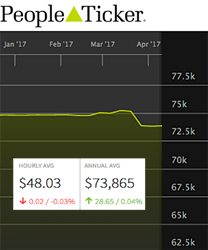 Joe Musacchio, CEO of PeopleTicker said "While labor costs naturally rise with increases in hiring, individuals are not quite seeing this in their paycheck.
Palm Beach, Florida (PRWEB) April 11, 2017
PeopleTicker™, the global standard for real-time salary and labor rates announced today that its Wage and Salary Index for March showed US wage growth was lagging employment growth. Overall wage increases in March for the United States averaged a marginal increase of .04%. PeopleTicker's Wage and Salary Index is a monthly report derived from actual data collected from its compensation software. This announcement comes following the release of ADP's National Employment Report stating that the United States experienced higher than expected job growth in the private sector for March.
Joe Musacchio, CEO of PeopleTicker said "While labor costs naturally rise with increases in hiring, individuals are not quite seeing this in their paycheck. Yet, we believe if this recovery continues and the expected tax cuts become reality, Americans will be making more and spending more, which in turn will keep employment growing." Small and mid-size businesses have seen the largest employment growth overall and as the President promised, jobs are the focus. It's clear that makers and builders are making a big comeback this year.
Employment in the construction industry continues to rebound, but wages have not kept up largely due to the availability of workers. PeopleTicker expects rates and salary to rise during the back half of 2017 driven by both commercial and residential market growth. Manufacturing is expected to follow a similar trend in wage growth.
While ADP reported a decline in IT hiring, PeopleTicker is seeing wage growth in all IT development roles. Some of the highest increases in March were: ASP.Net Developer of 1.2%, Python Developer of 1.08%, Automation Engineer of .98% and Integration Engineer of .96%. Overall the IT segment is still very strong.
In the Professional and Business Services category, we are seeing strong employment growth and expect this to continue throughout 2017. As the demand increases, wages are also on the rise. Qualified job seekers are taking advantage of this opportunity and receiving higher salaries for their willingness to change employers. While this overall category is showing a .09% increase, we are seeing several roles that are outperforming the averages: Workforce Planning Consultant up .94%, Technology Performance Consultant up 1.02%, and Performance Improvement Advisory up .68%.
About PeopleTicker.com:
To learn how your salaries and contingent rates compare to market, download our app PeopleTicker - Salary and Hourly Rates and create your own Private Labor Index. With PeopleTicker's Private Labor Index you have the ability to drill down into each element of your labor spend including both direct and contingent workers to discover new insights. This breakthrough technology keeps you ahead of the compensation game without the need for expensive consultants or relying on outdated survey data. Strengthened by over 18 years of wage research in nearly 160 countries, our data management, analytics, and SkillsVillage validation processes are unmatched in the industry. PeopleTicker's SkillsVillage is a global ecosystem of experts in procurement, human resources, and recruiting that provide crowd-sourced rate validation.