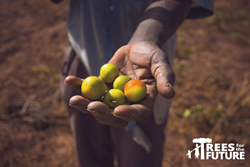 We believe that following a path to wellness includes making our Earth a healthier place for us all
(PRWEB) April 11, 2017
This Arbor Day, all proceeds from EarthShoes.com will be donated to Trees for the Future, a non-profit organization that dedicates their time and resources to solving poverty in third world countries by planting trees and developing forest gardens. Earth Inc. currently plants a tree for every item sold on its website and has done so since 2015, but even non-customers can register on Earthbrands.com/plant-on-earth to participate in this program and help plant even more trees. To date, Earth inc. has planted over 120,000 trees since launching their tree planting initiative, with a commitment to plant at least another 100,000 in 2017.
Earth Inc. takes pride in making the planet a healthier place. Their passion for the environment and dedication to wellness stems from their founder Anne Kalso, a Danish Yoga Instructor who believed that these principles should be integrated into every aspect of one's existence.
Join Earth Inc. this Arbor Day, April 28th 2017, where all proceeds from EarthShoes.com online sales made on this day will be donated to Trees For The Future.
To Learn More About Earth Inc, visit http://www.earthbrands.com/our-story
To Learn More About Trees For The Future, visit https://trees.org/sponsor/earth