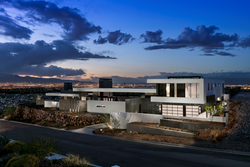 HENDERSON, NEVADA (PRWEB) April 11, 2017
ASCAYA, the exclusive residential development set in the foothills of the McCullough Range outside of Las Vegas, is celebrating the completion of its first inspiration home. The 6,641-square-foot estate, designed by SB Architects, includes four bedrooms, six and a half baths, an office and entertainment room. Based in San Francisco with offices in Miami and Shenzhen, the firm is globally known for site-sensitive designs and creating thought-provoking and well-crafted architectural projects.
"The opening of this inspiration home is a milestone at ASCAYA, and one of several we are celebrating this year," said Darin Marques, ASCAYA sales manager. "Our first three private residences were completed in December 2016 and January 2017, and our $25 million clubhouse opens this summer. Our vision for the community is becoming a reality, and we look forward to continued growth this year."
Six of the country's leading architects were commissioned to design one-of-a-kind homes to showcase to prospective buyers the unique sites available at ASCAYA. In an exercise of collective creativity, each home introduces a different interpretation of contemporary design. Four additional inspiration homes are currently under construction, with the final home scheduled to start construction later this year.
ASCAYA beckons with mesmerizing and well-appointed custom homes designed to fit seamlessly into the landscape. A tranquil refuge from Las Vegas' energetic pace, SB Architects' design sits on a half-acre site with sweeping views of the city and the surrounding mountain ranges. It will be offered on the market for $7.95 million and is currently available for private showings.
"We are honored to be one of the chosen architects to develop on this beautiful land," said Matt Page, LEED AP, vice president at SB Architects. "Drawing from our extensive hospitality experience, we approached this project as a smaller-scale resort. We see a lot of crossover with private estates wanting more resort amenities, and hotels yearning to feel more residential and intimate. We brought the resort lifestyle experience to the ASCAYA residence, incorporating an open layout with substantial gathering places, fluid connectivity from indoor-outdoor spaces, and amenities that overlook the Las Vegas Strip. With pockets of flexible spaces, future homeowners can create different setting and experiences. The home is equally comfortable as a private retreat for two or an ideal setting for a lively gathering around the stunning pool."
A statement of subtle elegance, the simple massing and long, horizontal lines are tempered by rich, natural textures and earthy colors. The contemporary home offers expansive living, dining and kitchen areas. And through a series of clerestory windows, the roof seems to float, semi-disconnected from the structure. The home also features a covered outdoor dining room, a sunken fire pit, outdoor spa, an indoor multi-functional room with a highly coveted roof deck.
"One of the remarkable aspects of this home is how seamless the transition is from indoor to outdoor space. With clean lines and expanses of glass, our home embraces the surrounding desert landscape. We believe that thoughtful design positively impacts our daily lives, starting first with site itself down to the small architectural details, and this home at ASCAYA is a perfect example of that," said Page.
To learn more about ownership opportunities at ASCAYA, please visit http://www.ascaya.com. For more information on SB Architects, please visit http://www.sb-architects.com.
Contact:
Sarah Thornton
sarah(at)sarahthorntonpr.com
702.239.0785
# # #
About ASCAYA
Nestled into the desert landscape, ASCAYA is a collection of 313 estate plots that will boast Southern Nevada's most coveted and opulent housing development.  ASCAYA is located nine miles south of the Las Vegas Strip on the McCullough Range in Henderson, Nevada. It rises nearly 1,000 feet above the Las Vegas Valley and features breathtaking views of the city and surrounding mountains. Follow Ascaya on Facebook, Twitter and Instagram for the latest news and updates.
About SB Architects
In 55 years of continuous practice, SB Architects has established a world-wide reputation for excellence in the planning and design of large-scale hotels, resorts, destination resort communities, and all associated resort amenities, as well as large-scale multi-family residential and urban mixed-use projects. The dedicated staff in the firm's San Francisco, Miami and Shenzhen offices successfully merges five decades of experience with the energy, drive and dedication of a second generation of partners. For more information, follow SB Architects on Facebook, Twitter and Instagram.