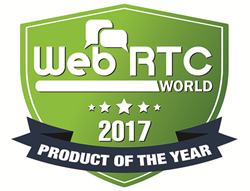 As WebRTC continues to gain momentum in the market and WebRTC applications grow in scope, issues with resilience and scaling become ever more important for network designers.
Parsippany, NJ (PRWEB) April 11, 2017
Dialogic, a cloud-optimized applications and infrastructure solutions provider for service providers, enterprises, and developers, announced today that TMC, a global, integrated media company helping clients build communities in print, in person and online, has named the Dialogic® PowerVille™ LB as a 2017 WebRTC Product of the Year Award winner.
"As WebRTC continues to gain momentum in the market and WebRTC applications grow in scope, issues with resilience and scaling become ever more important for network designers," said Jim Machi, SVP of Product Management and Marketing. "We're pleased TMC has recognized that Dialogic's PowerVille LB fills this important need with a cloud-ready software solution to distribute application traffic across clusters of servers, facilitating scaling and improving resilience."
"It gives me great pleasure to honor Dialogic as a 2017 recipient of a WebRTC Product of the Year Award for its innovative product, PowerVille LB," said Rich Tehrani, CEO, TMC. "Our judges were very impressed with the ingenuity and excellence displayed by Dialogic in its groundbreaking work on this load balancer."
PowerVille LB is a software-based high-performance, and fully optimized network traffic load-balancer, uniquely designed to meet challenges for today's demanding Real-Time Communication infrastructure in both carrier and enterprise applications. With PowerVille LB, application developers, service providers, and enterprises are able to dynamically scale, distribute, and manage traffic associated with a diverse set of real-time and non-real-time applications across disparate applications and data centers. Designed for COTS servers, or virtualized, or NFV deployments, the software-based PowerVille LB can be deployed in cloud or on premise implementations, supporting geographic diversity and resilience.
Learn more about PowerVille LB at http://dlgc.co/PowerVilleLB
About Dialogic
Dialogic is a leading cloud-optimized solutions provider for real-time communications media, applications, and infrastructure to service providers and developers around the globe. Based in Parsippany, NJ with offices worldwide, Dialogic helps 48 of the world's top 50 mobile operators, and nearly 1,000 application developers build and deploy on agile networks. Learn more about how Dialogic is enabling agility by following us on Twitter @Dialogic, and visiting http://www.dialogic.com and the Dialogic Blog for the latest industry news, trends and advice.
Dialogic and PowerVille are either registered trademarks or trademarks of Dialogic Corporation or a subsidiary thereof ("Dialogic"). Other trademarks mentioned and/or marked herein belong to their respective owners.
About TMC
Global buyers rely on TMC's content-driven marketplaces to make purchase decisions and navigate markets. This presents branding, thought leadership and lead generation opportunities for vendors/sellers.
TMC's Marketplaces:

Unique, turnkey Online Communities boost search results, establish market validation, elevate brands and thought leadership, while minimizing ad-blocking.
Custom Lead Programs uncover sales opportunities and build databases.
In-Person and Online Events boost brands, enhance thought leadership and generate leads.
Publications, Display Advertising and Newsletters bolster brand reputations.
Custom Content provides expertly ghost-crafted blogs, press releases, articles and marketing collateral to help with SEO, branding, and overall marketing efforts.
Comprehensive Event and Road Show Management Services help companies meet potential clients and generate leads face-to-face.
For more information about TMC and to learn how we can help you reach your marketing goals, please visit http://www.tmcnet.com.
TMC Contact:
Stephanie Thompson
Manager
203-852-6800, ext. 139
sthompson(at)tmcnet(dot)com
Dialogic Contact:
Chika Kim
Digital Marketing Manager
+1 973 967 6294
chika.kim(at)dialogic(dot)com