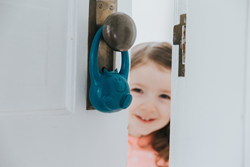 Calgary, Alberta (PRWEB) April 11, 2017
Every year millions of parents in North America purchase a baby monitor, but when children move from their cribs to a bed there is nothing on the market to ensure that toddlers can be safely monitored – until now. Toddler Monitor is a motion-sensor device designed to alert a parent if their toddler has left their bedroom or safe space. You simply hang the device on a doorknob and activate it from a smartphone. If a toddler opens the door, the device senses the motion of the door and sends an alert via the Toddler Monitor App.
"When my two-year-old son got out of our house in the night, I was shocked there was nothing on the market that could be easily set up to monitor or notify me if he left his room," says Toddler Monitor Co-founder Krista Teare. "We began to track to see if this was a common problem and found a volume of news stories across North America where children were getting out of their homes undetected, sometimes with tragic outcomes."
How it works:
Once you have purchased your Toddler Monitor device, simply download the Toddler Monitor App and follow the instructions. Once paired to your phone it is as easy as:

Set. Hang Toddler Monitor on your toddler's bedroom door and set it from your iPhone using the Toddler Monitor App.
Sense. If your toddler tries to leave their bedroom, the device will sense the motion of the door and send a Bluetooth signal to your smart phone.
Know. You will be notified via the Toddler Monitor App if there is movement at the door and you will know that your toddler is on the move.
Toddler Monitor is also very helpful for children and people with special needs such as Autism, ADHD, Down Syndrome, Dementia or Alzheimer's, where wandering can be a pervasive challenge.
"We created this product because we needed it, and we know parents want simple and reliable technology solutions for their caregiving challenges. Having the peace of mind of knowing your toddler is safely asleep allows you to relax and enjoy the limited free time you have as a parent," says Toddler Monitor Co-founder Lisa Ruigrok.
Features and benefits:

Toddler-friendly design
Durable and water resistant
Food Grade, BPA free material
Easy to setup & use
Fits on all doorknobs
Travel size and weight
Controlled with Smartphone App (Apple iOS and Android)
Manages up to three devices at once
Device can be controlled by up to three parents or caregivers at once
Reliable Bluetooth LE technology
4000 square foot range (sufficient for a large private home)
Easily replaceable coin cell battery
Toddler Monitor will be funding the manufacturing of its first run of product by crowdfunding on Kickstarter and will be featured on Dragons Den later this year. View the campaign here, this will be a preview until April 13. Two dollars from each device purchased will be donated to Changing the Face of Beauty, a nonprofit corporation that is committed to equal representation of people with disabilities in advertising and media worldwide.
-30-
For more information or to book media interviews, contact Krista Teare at krista.teare(at)toddlermonitor(dot)com
Imagery is available here.
Toddler Monitor is a start-up based in Calgary, AB, Canada. Co-founded by Krista Teare and Lisa Ruigrok, two moms and management consultants, the company was born out of their own need to monitor the movements of their toddler-aged children. Surprised to find that there was nothing on the market to reliably monitor children past infancy, they created an adorable motion sensor device that hangs on a door and a supporting phone application that is simple to use, travelable and can be easily set up to monitor toddler aged children. They will launch a crowdfunding campaign on Kickstarter in April 2017 with the goal of having their product available in late summer of 2017.