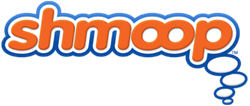 Bringing this work of literature to life on the mini-screen is an exciting way to draw in a wider audience.
Mountain View, California (PRWEB) April 24, 2017
Shmoop, a digital publisher known for its award-winning test prep and certified online courses, is a firm believer that the book is always better than the movie. Or in this case, Hulu's ten-episode series, The Handmaid's Tale, based on Margaret Atwood's novel of the same name. But a good adaptation can give a book a run for its money.
Shmoop offers an extensive, detailed guide to help readers delve into the nitty-gritty of Atwood's classic novel. Avid readers and TV-watchers alike can get a firm grasp on the story and themes long before snuggling into their respective sofas and breaking out the popcorn.
"Here at Shmoop we're huge fans of remakes and adaptations," says David Siminoff, founder of Shmoop. "Bringing this work of literature to life on the mini-screen is an exciting way to draw in a wider audience."
Shmoop's The Handmaid's Tale Learning Guide goes beyond just providing a comprehensive summary of the plot points. It offers analysis of the characters and their motivations, a close reading of quotes of particular importance, and extensive coverage of the many themes at play.
In addition, the guide includes flashcards, essay help, and infographics, plus critical thinking questions that will get readers thinking about the protagonist's trials and tribulations on a whole new level.
The Hulu series, starring Elisabeth Moss, Alexis Bledel, and Joseph Fiennes, is sure to captivate a large audience. But Atwood's book has been drawing a crowd of its own for over 30 years now. And Shmoop can explain what all the fuss is about.
Those looking to dig even deeper into Atwood's novel can check out Shmoop's The Handmaid's Tale course. Individuals and small groups can access this course and hundreds of others via a Shmoop subscription, while schools and districts looking for bulk subscriptions on courses, test prep, and more, can contact sales(at)shmoop(dot)com for a quote.
About Shmoop
Shmoop offers hundreds of thousands of pages of original content. Their Online Courses, Test Prep, Teaching Guides, Learning Guides, and interactive Study Tools are written by teachers and experts and balance a teen-friendly, approachable style with academically rigorous concepts. Shmoop sees 15 million unique visitors a month across desktop and mobile. The company has won numerous awards from EdTech Digest, Tech & Learning, and the Association of Educational Publishers. Launched in 2008, Shmoop makes the magic happen from a labradoodle-patrolled office in Mountain View, California.