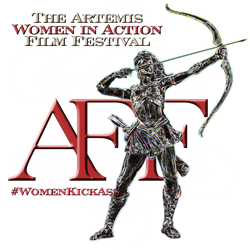 "Our film festival seeks to redefine the image of women, not just on screen, but in culture as well," said film festival Founder, Melanie Wise. "Our official hashtag is #womenkickass, and we try to convey that sensibility in everything that we do."
Hollywood, CA (PRWEB) April 11, 2017
The Artemis Women in Action Film Festival is thrilled to announce the 3rd Annual Artemis Women in Action Film Festival honoree, Melissa McCarthy. She will be receiving her award on April 20th, 2017 at Ahrya Fine Arts Theater in Beverly Hills.
Ms. Melissa McCarthy will receive The Artemis Action Powerhouse Award which recognizes characters she has performed in her career that display strong, funny, and unstoppable women in film. Melissa has epitomized female action heroes in countless films. She has always embraced characters who are physically empowered -- even when they make us laugh. Previous recipients of this award were Yancy Butler and Kristanna Loken.
The Artemis Women in Action Film Festival takes place over four days, from Thursday April 20 through Sunday April 23, 2017. The Thursday night Red Carpet Gala & Honoree Ceremony will be held at 8:00p.m. at the Ahrya Fine Arts Theater in Beverly Hills. The Friday through Sunday screenings and panels will take place at the Laemmle Monica Film Center in Santa Monica. The festival is joined this year by festival sponsors, Oculus, Hyperator VR Innovation Lab, and the LA Sparks.
"Our film festival seeks to redefine the image of women, not just on screen, but in culture as well," said film festival Founder, Melanie Wise. "Our official hashtag is #womenkickass, and we try to convey that sensibility in everything that we do."
"The idea of female action heroes is nothing new. Women have been action heroes from antiquity to the present day," remarks Co-Founder Sean Marlon Newcombe. "We want to increase awareness of that for the industry and for audiences."
Songwriter/Musician, Michelle Mangione, with a Los Angeles homebase and a worldwide fanbase, will be performing at the honoree ceremony on Thursday, April 20th. Michelle is an accomplished songwriter who has partnered with her faves Grace Slick and Exene Cervenka on several songs.
McCarthy will be honored along with previously announced honorees:
Actor/Producer, Mr. Tom Cruise will receive The Artemis Action Rebel Award in recognition of his illustrious body of work that has cemented his place in Hollywood acting history while championing strong female heroes in film. Mr. Cruise commonly features women in physically strong and empowering action roles in his films. His actions advance the opportunities for world-wide audience to see powerful women on the big screen. Last year's recipient of The Artemis Action Rebel Award was acclaimed director Paul Feig, who will be presenting Mr. Cruise's his award this year.
Nichelle Nichols, the beloved Lt. Uhura from "Star Trek," will receive an honor for her amazing career. Her role as Uhura shattered barriers for women in the sci-fi genre and created an icon for generations of women and girls.
Artemis will also honor Luci Romberg as part of the next generation of stuntwomen icons. As a regular stunt double for Melissa McCarthy, Luci has made a name for herself for her stunt work in films such as "Ghostbusters," "Spy", "Jason Bourne," and "Green Lantern." Luci will certainly be at the forefront of the stunt world for many years to come.
Action star Cynthia Rockrock ("China O'Brien," "Lady Dragon," "Rage and Honor") will be honored for her extraordinary body of work comprising over 50 action films. A holder of a black belt in seven martial arts disciplines, Ms. Rothrock is a legend both in Hong Kong and the US and a true pioneer of female Hollywood action heroes.
Please visit http://www.ArtemisFilmFestival.com for a complete line-up of the 2017 official film selections and links to purchase tickets.
About The Artemis Women In Action Film Festival
A first of it's kind, inspired by the popularity of the genre, its longevity, and their love of film, Artemis Motion Pictures has produced the world's first film festival devoted exclusively to honoring female-driven action films. In addition to the festival, Artemis focuses on creating female action content. With its expansion into VR, Artemis is also bringing their female centric sensibility to the 360 filmmaking world. Artemis has been attracting the attention and support of high profile influencers such as Paul Feig, Carrie Fisher, Rosie O'Donnell, Patricia Arquette, and Wynonna Judd—all of whom have graciously helped boost the popularity of the official hashtag, #WomenKickAss.
Official Website: http://www.ArtemisFilmFestival.com | http://www.WomenKickAss.com
Social Media: http://twitter.com/Artemis_FF & http://www.facebook.com/ArtemisFilmFestival
About VR Lounge & VR Panel Sponsors: Hyperator VR Lab, Oculus & Oculus VR for Good
In celebration of the 3rd annual Artemis Women in Action Film Festival, LA-based Hyperator VR Lab has partnered with Artemis Motion Pictures to launch The HA!, a pop-up 360 VR lounge. The three-day event, open to the public, happening on April 21-23 at The Laemmle Monica Film Center is sponsored by Oculus and Oculus VR for Good. The HA! premium VR and 360 Video Lounge will take place on Saturday 22nd and Sunday 23rd April from 12:00 pm to 6:00 pm. General admission tickets are available here: http://www.hyperator.com/the-ha-lounge
Hyperator is a Virtual Reality Innovation Lab in Greater Los Angeles. On the bleeding edge, Hyperator helps develop ideas from start to launch. Services include research and development, prototyping, user testing, business plan creation, as well as product launch. http://www.hyperator.com/ Oculus is making it possible to experience anything...anywhere...through the power of virtual reality. Oculus VR for Good was created to inspire the next generation of VR creators–starting with high school students, rising VR filmmakers, and nonprofit organizations.
About Festival Sponsor: Los Angeles Sparks
The Los Angeles Sparks are a professional Basketball team based in Los Angeles, CA, playing in the Western Conference in the Women's National Basketball Association (WNBA). They are the current WNBA champions after defeating the Minnesota Lynx, 3-2, in the 2016 WNBA Finals. The team was founded before the league's inaugural 1997 season began. Like some other WNBA teams, the Sparks have the distinction of not being affiliated with an NBA counterpart, even though the market is shared with the Los Angeles Lakers and the Los Angeles Clippers. As of 2015, the Sparks are the last franchise to win back-to-back titles.
The Sparks have qualified for the WNBA Playoffs in sixteen of their twenty years in Los Angeles, more than any other team in the league. The franchise has been home to many high-quality players such as 6 foot 5 inch center Tennessee standout Candace Parker, flashy point guard Nikki Teasley, and nearby USC products Lisa Leslie and Tina Thompson. In 2001, 2002, 2003, and 2016, the Sparks went to the WNBA Finals. They won the title in 2001, 2002, and 2016, beating Charlotte, New York, and Minnesota respectively, but fell short to Detroit in 2003. As of 2014, the Sparks are owned by Sparks LA Sports, LLC.
###
Press Contact:
Melanie Marquez, Sr. Publicist at M4PR
PR@M4PR.com
818-538-6477