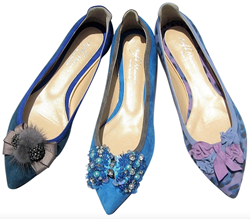 FLAT PLAT: a new twist on Flat shoes that is comfortable without sacrificing style.
Miami,FL (PRWEB) April 11, 2017
Using a US patented outsole for outstanding comfort and support; FLAT PLAT was inspired by Arefeh's own discomfort with flat shoes.
Therefore, she collaborated with a Neuro-Interventionalist, specialized in back and joint pain and created a comfortable and supportive outsole after much trial and error with many prototypes.
To test the final product, an initial high end and very limited run of the shoes were made in Italy with exotic materials and sold in Arefeh's Worth Avenue store in Palm Beach. The shoes were an instant hit with her clientele, who wanted more. Due to this high demand Arefeh has decided to manufacture FLAT PLAT with the opening of her new headquarters in Miami's Coral Gables. But this time FLAT PLAT will be more accessible and made in the USA, while retaining its quality.
Unlike most shoes geared for comfort, FLAT PLAT has been invented and designed by an Internationally renowned Wedding Gown and Costume Designer Arefeh Mansouri. So you won't have to worry about sacrificing looking good. Just check out http://www.FLATPLAT.com to see what we mean.
Ms Mansouri, is proud to have her creation manufactured in the USA and will make pre-orders available online in late 2017.