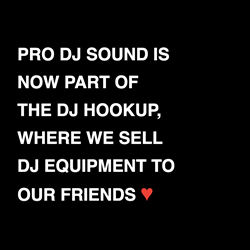 Retail is an industry traditionally defined by 'take.' We believe we can give our way to the top.
Chicago, IL (PRWEB) April 13, 2017
The DJ Hookup, a leading etailer of DJ and music production equipment based out of Mundelein, IL, announces its acquisition of Pro DJ Sound, a Chicago-based DJ and audio retailer.
As of 2016, The DJ Hookup is the highest user-rated etailer in the DJ and music production space, according to 3rd party review site ShopperApproved.com. A few months later, the acquisition of Pro DJ Sound is a major step in the company's mission towards becoming "the Zappos of DJ equipment" - the leading user experience and service company in its space.
Alex Pyatetsky, co-founder of The DJ Hookup says, "we're on a mission to do more for DJs than anybody else. Retail is an industry traditionally defined by 'take.' We believe we can give our way to the top. Pro DJ Sound is a company that's been diligently serving DJs in Chicago, the midwest and beyond for years. They've built the meaningful connections and relationships with DJs that we value. Today is a win-win-win for us, Pro DJ Sound, and thousands of DJs who we hope to touch and benefit over the coming years."
Arslaan Khan, founder of Pro DJ Sound says, "When you start a company, there are a few home-runs that you wish for. To achieve traction so you can survive. To create something awesome that people will love. And to get acquired by the leading company in your space. Today, I'm grateful to say that we've achieved all 3."
Over the past two decades, no industry has seen as much evolution as retail. With Forrester Research predicting that online sales in the U.S. will reach $523 billion in the next five years - up 56 percent from 2015 - retailers are working to find new ways to advance alongside today's multi-channel consumer. The music retail industry is no different. Leading the way are innovative Chicago players The DJ Hookup and Reverb.com, an online marketplace for buying and selling new and used music gear.
The DJ Hookup, including assets acquired from Pro DJ Sound, will continue to operate primarily from TheDJHookup.com, which serves DJs and music producers worldwide.
About The DJ Hookup
The DJ Hookup, founded in 2010, is the highest rated DJ retailer online, according to ShopperApproved.com. The company is built on a simple philosophy, "we sell DJ equipment to our friends."
The team brings an obsession with customer experience and decades of building category-leading products to online DJ retail. The DJ Hookup is building "the Zappos of DJ equipment" led by the insight that people can buy DJ equipment anywhere, but they'd rather buy from their friends.