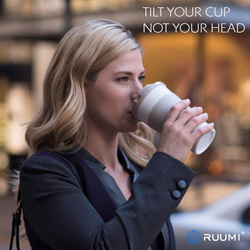 Ruumi cup comes with an array of unique features designed to satisfy. Not only does the lovingly chiseled lid achieve perfect sipping, but every aspect of handling the cup was carefully scrutinized and optimized.
Seattle, WA (PRWEB) April 12, 2017
Ruumi is the first travel cup that comfortably fits the contours of the human face so the lid won't bump the nose and people won't have to tilt their head back every time they take a sip. Its patented design offers plenty of comfort room for the nose without impacting the capacity of the cup. Ruumi's unique shape allows users to keep their eye on the road, maintain eye contact with friends across the table, or simply enjoy the feeling of an open cup on the go.
From top to bottom, Ruumi Cup re-envisions what a travel cup can be. Not only does the lid's concave center increase comfort, its underside acts as a breakwater to absorb sloshes and prevent spills. The size and placement of the sip hole result in an easy flow reminiscent of an open cup, while subtle raisers on top prevent the sip hole from touching any surface when the lid is set down. Partially insulated walls allow for optimal heat transfer, so beverages reach a drinkable temperature sooner while staying warm long enough to be enjoyed.
Made from high quality, BPA-free material, Ruumi Cup is microwave and dishwasher safe. More information is available at http://www.ruumicup.com or via email at info(at)ruumicup(dot)com