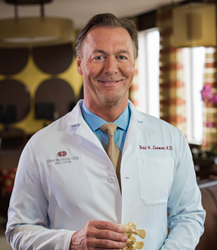 Beverly Hills, California (PRWEB) April 12, 2017
Following its published study last month documenting 'favorable outcomes' at 24 months (two years) post-op of the FDA approved two-level cervical disc replacement procedure using a Prestige LP, the peer-reviewed medical journal, Journal of Neurosurgery: Spine, has published the long-awaited long-term seven year study, noting 'statistical superiority' over fusion in treating cervical degenerative disc disease in two contiguous disc levels.
This is the first time ever that this breakthrough procedure has been found to be statistically superior, in areas of safety and effectiveness, to that of fusion surgery, giving those suffering from cervical disc disease in two adjacent disc levels another option for treatment, and one that allows them to maintain full mobility and motion in their neck following a minimally invasive procedure.
The paper was authored by Todd H. Lanman, as lead writer, along with five additional spine surgeons, including J. Kenneth Burkus, MD, Randall G. Dryer, MD, Matthew F. Gornet, MD, Jeffrey R. McConnell, MD, and Scott D. Hodges, DO. Lanman, who operates Beverly Hills-based Lanman Spinal Neurosurgery (http://www.spine.md), acted as Principal Investigator on the clinical trial, which led to FDA approval last year, and is widely sought out as one of the leading spine surgeons and innovators in spine health and artificial disc replacement in the world.
As the newly published paper notes, the study aimed to "assess long-term clinical safety and effectiveness in patients undergoing anterior cervical surgery using the Prestige LP artificial disc replacement (ADR) prosthesis to treat degenerative cervical spine disease in two adjacent disc levels compared with anterior cervical discectomy and fusion (ACDF)."
The randomized controlled multicenter trial was conducted at 30 US centers. At 84 months post-op, Medtronic's titanium ceramic composite Prestige LP device demonstrated statistical superiority over anterior cervical discectomy and fusion for overall success. The study continued to compare the clinical trial's initial 209 investigational patients undergoing a two-level cervical disc replacement with that of 188 control patients undergoing ACDF between June 2006 and November 2007 for 84 months postop.
At the seven-year (84 month) postoperative mark, two-level cervical disc replacement at two adjacent disc levels with a Prestige LP device has been found to maintain improved clinical outcomes and segmental motion, and is now a "safe and effective alternative to fusion," as the paper notes.
As many patients suffer from multilevel disease, or disease in more than one level of the cervical spine, this procedure now allows for those patients to undergo a procedure that restores segmental motion in their neck, of which ACDF normally limits, often times placing additional stress on adjacent discs, potentially leading to accelerated degeneration of those discs. As the study also details, "pseudoarthrosis in multilevel ACDF is considerably higher than single-level ACDF, as are revisions, complications and reoperations."
One- or two-level artificial disc replacement in the cervical spine is approved by most insurance plans.
The published paper can be found here: http://thejns.org/doi/pdf/10.3171/2016.11.SPINE16746
About Todd H. Lanman, MD.
As a specialist in the advancement of spinal health and surgery, total disc replacement and motion preservation for more than 25 years, Dr. Todd H. Lanman has earned top honors, his patients' trust and respect, and recently was named one of the Top Doctors in America. He is also the go-to Spinal Neurosurgeon for many of the world's leading business leaders and biggest stars. A Diplomate of the American Board of Neurological Surgery and a Fellow of the American College of Surgeons, Dr. Lanman earned his M.D. at Chicago's Northwestern University in 1983 with top honors and went on to complete his residency in Neurological Surgery at University of California at Los Angeles. Since then, Dr. Lanman has led his leading spinal neurosurgery practice, Lanman Spinal Neurosurgery, in the heart of Beverly Hills, which is affiliated with Cedars-Sinai Medical Center's Institute for Spinal Disorders, UCLA Medical Center and Saint John's Medical Center.
As a leading innovator in medicine, as well as a media educator and contributor, Lanman has published more than a dozen peer-reviewed articles, as well as book chapters on topics relating to his field, and has presented more than two dozen papers at national and regional medical society meetings. His expertise is often sought out as he is often tapped to be the principal medical investigator on a wide swath of clinical trials for motion preserving surgeries and artificial disc replacement devices. He has also remained an assistant clinical professor at UCLA for the past 20 years. For more information on Dr. Lanman and Lanman Spinal Neurosurgery, visit http://www.spine.md/
###