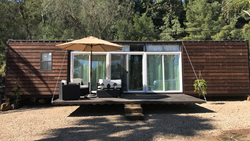 (PRWEB) April 19, 2017
Atomic Container Homes Inc. is the premier designer, developer and manufacturer of leading edge hybrid container projects on a global scale. ACHI's experience in manufacturing modular container structures is years ahead of the competition. They have been operating in the Government sector for over 10 years and have spent the last 4 yrs building up new divisions. ACHI is doing projects with teaming partners in Louisiana in the LNG fields for housing that will allow for continued growth for the next 10 years. They have just received this year's PO for $35M for worker housing on a new sea port that will take 5 years to build at an expected cost of over $6.5 billion! When it comes to building class 5 hurricane proof structures ACHI has little to no competition and as a result, they were awarded the opportunity for a Joint Venture with the land owners in Cameron Perish.
ACHI is currently working on projects through Grainger Industrial for the homeless in Orange County, CA, for the City of Orange, where they are now an approved vendor. ACHI has worked with other homeless programs in the past and they can produce, energy star products, quickly and for about half of what traditional costs would be. ACHI has projects in development in the Dominican Republic, overseas, and across America. ACHI is made in the USA with a strong competent labor force based in El Paso TX. The company is a Delaware based corporation with offices in Newark and TX. Crafting their products in a non-traditional way and are years ahead of the competition. Check out Atomic Container Homes Inc. at: http://www.containerhome.center and feel free to pick up the phone and call them to discuss your needs or to ask anything about this growing business.