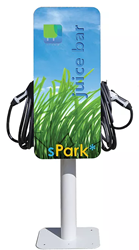 Tolland, Conn. (PRWEB) April 11, 2017
Lot 78, Inc (OTCPink: LOTE), announces that it has entered into an exclusive agreement with sPARK (http://www.sparkev.ca ) Electric Vehicle Charging to market, sell and install Lot 78, Inc.'s Juice Bar Electric Vehicle Charger (http://www.juicebarev.com ) in Canada.
LOTE CEO David Schmid, "The Canadian electric vehicle charging station market is one that is rapidly emerging as an opportunity for major growth as more electric vehicles become available to our neighbors to the north. Our Juice Bar Electric Vehicle Charging Stations has taken a decisive step in partnering with an innovative company like sPARK with its experienced and diversified management team."
sPark offers premium electric vehicle charging technology combined with customized installations and creative marketing options to give a unique charging experience. sPark proudly provides turnkey EV Charging solutions to residential, commercial, and industrial clientele in Canada.
ABOUT LOT 78, INC. The Company was incorporated in the State of Nevada on June 27, 2008. On March 14, 2011, the Company filed a Certificate of Amendment with the Secretary of State of Nevada changing the name of the Company to "Bold Energy, Inc." On November 12, 2012, the Company, then under the name Bold Energy, Inc., entered into a Share Exchange Agreement with Anio Limited a limited liability company established under the laws of the United Kingdom ("Anio Ltd."), which conducts its primary line of business under the name Lot 78, Inc., the shareholders of Anio Ltd., and the controlling stockholders of the Company. The company changed names to Lot 78, Inc. on January 31, 2013. On July 15, 2016, the Company entered into a Letter of Intent to merge with Compound Holdings, LLC, a Connecticut limited liability company. Subsequently, on July 18, 2016, the Company and Compound Holdings LLC entered into a definitive Agreement and Plan of Merger. Pursuant to the plan of merger, upon closing, the Company intends to change its name to Compound Holdings, Inc.