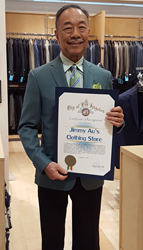 (PRWEB) April 11, 2017
The Mayor of Los Angeles, Eric Garcetti, has bestowed a congratulatory proclamation letter for Jimmy Au's for Men 5'8 and Under clothing store for their opening in Sherman Oaks, California.
"The opening of our Sherman Oaks location has been well received from loyal customers, and this proclamation from the Mayor has been a tremendous support," says Alan Au.
Jimmy Au's http://www.jimmyaus.com/, is the nation's leader and pioneer in the design and development of short men's clothing. Here shorter men come first, with the collection starting with a 5'5" man in mind.
Jimmy Au is the most qualified man to design clothing for short men. Given the daily work environment he's in, he will have fit more short men in a year than most custom tailors might in a lifetime. Given his passion for making shorter men look great, no one is going to try harder to make you look and feel great in your clothes.
The new store in Sherman Oaks, California provides more selection, more space and more parking. Clients and customers have stayed loyal to Jimmy Au's and continue to come in from all over Southern California.
"We are excited and plan to have it framed for all to see," says Jimmy Au.