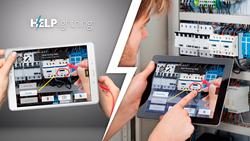 Birmingham, AL (PRWEB) April 12, 2017
Help Lightning, Inc. announces availability of a new release of its enterprise mobile merged reality and virtual presence cross-platform app for Android and iOS. With the newly released session-based capability, the app positions itself as the tool of choice for field service expertise sharing as well as for a growing variety of other business applications.
The Help Lightning app, designed for the service industry, employs patented merged reality technology that provides users needing or giving help to be virtually present with one another on any smartphone or tablet. Companies are able to establish more powerful customer relationships by changing the speed, quality and responsiveness of their service organization.
The app digitally merges two real-time environments, blending local and remote video streams for instant, interactive help sessions. Two individuals virtually combine their "real" worlds to transmit their actual hands to visibly gesture, show real objects, illustrate ideas and demonstrate using actual products or tools. The immersive virtual presence provides a richer experience and eliminates the constraints of virtual reality or one-way augmented reality. A service expert is able virtually reach inside the customer's environment to diagnose, educate and/or resolve issues from anywhere.
Help Lightning business customers have the option of branding and integrating the application with their help processes to speed customer installations, accelerate problem-solving, assist on-site personnel, eliminate wasteful trips, minimize delays, maximize uptime as well as differentiate the way products are sold, implemented and serviced.
Businesses wanting to learn more can watch recordings of actual service calls at helplightning.com/demo-videos. Individuals who wish to try merged reality for personal use can download the app for free from the App Store or Google Play.