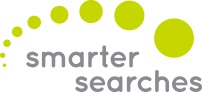 Knoxville, Tenn (PRWEB) April 12, 2017
Smarter Searches is pleased to announce that owner and CEO Courtney Herda has been named a finalist for the Young Entrepreneur Award at the 2017 Pinnacle Awards presented by the Knoxville Chamber of Commerce. "This award is presented to a young professional, 40 years of age or younger...who lives and works in East Tennessee and has achieved success while overcoming obstacles, to become one of tomorrow's top business leaders." 2016 was an exceptional year for Smarter Searches and CEO Courtney Herda. Courtney made the Greater Knoxville Business Journal's 40 Under 40 this year, and the company has significantly expanded its offerings, as well as its community involvement, and awards.
Courtney funded Smarter Searches with $7,500 of her own personal savings – much of which was spent buying a new laptop, joining the Chambers of Commerce, printing business cards, and starting to pound the pavement to build her client portfolio, which started with a grand total of zero clients.
Smarter Searches is a debt-free company with a single-owner. Courtney funded the company herself, built the company herself, and has hired all of her own employees. Now, as a cohesive and united team of five employees, Smarter Searches works to increase sales, provide the highest quality of work possible, and continue to grow their brand in a way that is authentic to the dream Courtney had four years ago.
Today, she has built award-winning websites and marketing pieces, totaling 12 American Advertising Awards and counting, 5 Big Wig Awards from the American Advertising Federation, and a finalist award for best SEO campaign from the Search Engine Marketing Professionals Organization, for which Smarter Searches was the only non-Silicon Valley company to do so.
Smarter Searches' revenue growth has been double-digit every quarter since inception. In 2015, the company experienced a 74% year-over-year growth in revenue. In 2016, revenue grew an additional 60%. This year to date is now up 106% over the previous year's revenue numbers at the same time. Since Courtney's initial investment, Smarter Searches' annual revenue is up 8233%.
At the executive level in the tech industry, the percentage of women is between 10 and 21%. Though approximately 36.3% of businesses in the US are women-owned, 89.5% have no employees. Therefore, only 10.5% of businesses in the United States are women-owned and have more than one employee (National Women's Business Council). Courtney is extremely proud to stand in that minority, particularly in the heart of Innovation Valley, where we've seen unprecedented technological growth. In fact, Tennessee ranked 7th of the fastest-growing states for women-owned firms since 2007 in terms of economic clout (a combination of growth in number, employment, and revenue), per the 2016 State of Women-Owned Businesses Report from American Express.
Courtney was a finalist for the Young Entrepreneur Award in 2016, but Smarter Searches is now head-and-shoulders above where it was at the same time last year. In the last 11 years of the Young Entrepreneur of the Year award, only one woman has ever won the award. With an incredible amount of hard work, Courtney is happy to even be on a list to be considered the second.
###
Smarter Searches is a digital marketing agency helping to bring online visibility to businesses of all industries. From website design to search engine optimization to pay per click advertising and social media, we focus on creating brand cohesion with our clients so that every piece of your marketing strategy connects you with your users across the web. Our strategy helps you think smarter to become more engaging, more creative, more effective, and more profitable online.