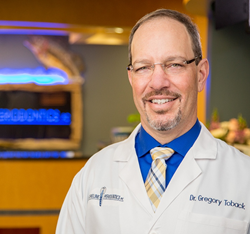 New London, CT (PRWEB) April 11, 2017
Dr. Gregory Toback, a respected periodontist in Westerly and New London, CT, recently published a landmark study with a team of leading dental clinicians in the Journal of Clinical Periodontology. This study discovered optimal techniques for bone grafting procedures and ridge augmentation after tooth extractions, specifically testing the ideal strategy to repair bone defects caused by oral infections. As a skilled board-certified periodontist, Dr. Toback offers leading periodontal care and specializes in dental implant placement at his practice, Shoreline Periodontics.
The alveolar ridge of the jaw is the area of the bone that surrounds the roots of the teeth. After a tooth is extracted, or removed, this bone may heal, or in many cases, the socket breaks and is unable to heal on its own. In other cases, bacteria caused by an oral infection, such as periodontal disease, can lead to bone loss and eventually additional tooth loss. Before a dental implant can be placed, a periodontist may recommend rebuilding this area in order to support the implant post and see long-term dental implant success.
One of ten surgical investigators, Dr. Toback, and his associates, treated a total of 40 patients involved in this study. Their objective was to determine the most successful treatment strategies of bone grafting areas affected by severe dental infections. Using two bone grafting approaches, patients were treated while monitoring bone healing with advanced dental microscopes. The results of the study showed the benefits of a collagen matrix bone graft material in repairing large defects.
This study represents one of the largest histologic studies of its kind and is just one of the many research endeavors Dr. Toback is committed to. As a periodontist in Westerly, RI and New London, CT dedicated to providing leading dental care, Dr. Toback offers experienced bone grafting treatment, tooth extractions, dental implant placement and periodontal care at Shoreline Periodontics. To learn more about effective bone grafting techniques or schedule a consultation, call 860-333-1531 for the New London, CT practice, or 401-622-4661 for the Westerly, RI location.
About the Doctor
Shoreline Periodontics is a periodontal practice offering personalized dental care for patients since 1998 and is located in New London, CT and Westerly, RI. Leading board-certified periodontist, Dr. Gregory A. Toback, received his B.A. from St. John's University and his Doctorate of Dental Medicine from the University of Connecticut. He also received advanced training in periodontics and dental implants at the University of Texas Health Science Center in San Antonio. Dr. Toback focuses on minimally invasive surgeries, offering the LANAP® protocol and belongs to a small group of dental professionals currently providing the Chao Pinhole Surgical Technique™ for treatment of gum recession. Dr. Marianne Urbanski has been voted one of Connecticut's top dentists for more than seven years by Connecticut Magazine. Dr. Urbanski graduated cum laude from the College of Holy Cross in Worcester, Massachusetts where she earned a Bachelors' degree in Biology. She also received her Doctor of Dental Medicine degree and her Masters' of Dental Science degree from the University of Connecticut Dental School. Dr. Urbanski prides herself on offering caring, professional care to each patient. To learn more about Shoreline Periodontics and their dental services visit their website at http://www.shorelineperio.com or call 860-333-1531 for the New London, CT location, or 401-622-4661 for the Westerly, RI office.