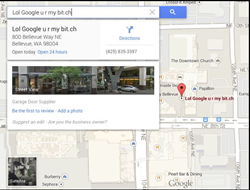 Washington DC (PRWEB) April 17, 2017
A research paper by the University of California titled, "Pinning Down Abuse On Google Maps," funded by a grant of 4.97 million dollars from the National Science Foundation, documents the extent we are exposed to misinformation on the Internet. This information can be in the form of a false address, fake map points, untrue claims all which could mislead the consumer. Many unscrupulous companies use these illegal techniques to gain a prominent listing. False listings can totally fool a consumer as they entice the consumer by suggesting a nearby false location, cheap prices, and even mimicking an existing reputable well-known service. This can create many unhappy customers left with poor workmanship and high costs once this locksmith arrives. The other huge impact is loss of business of service calls diverted from honest locksmiths who abide by the guidelines created by the search engines.
"In this paper, we investigate a new form of blackhat search engine optimization that targets local listing services like Google Maps. Miscreants register abusive business listings in an attempt to siphon search traffic away from legitimate businesses and funnel it to deceptive service industries—such as unaccredited locksmiths—or to traffic-referral scams, often for the restaurant and hotel industry."
"Users' online attention is becoming increasingly localized: A recent Google study [1] reports that 4 out of 5 users conduct searches with local intent. A wide variety of local listing services like Apple and Google Maps, Yelp, and Foursquare have emerged to enable users to search for businesses based on physical location. Hence, relevance is no longer sufficient to drive interest; geographical proximity is the coin of the emerging localized-search realm."
"However, increasing economic incentives are driving an ecosystem of deceptive business practices that exploit-localized search, such as illegal locksmiths that extort victims into paying for inferior services [9]. In response, local listing services like Google Maps employ increasingly sophisticated verification mechanisms to try and prevent fraudulent listings from appearing on their services."
The problem of identification
So how do you avoid these scamming locksmith companies? They know how to disguise themselves as a legitimate business. Their web sites look professional, plus they gain a legitimacy provided by the search engines and online directories enhancements. Some are a prominent placement on their first page, a beautiful map listing and many times they allow a manufactured five star reviews to blend their listings with others perfectly.
Remove the false listings.
The locksmith trade accounts for 25% of all bad listings according to the study. "In collaboration with Google, we examined over a hundred-thousand business listings that appeared on Google Maps between June 1, 2014 and September 30, 2015 that were subsequently suspended for abuse."
So it can be done. Search Engines and Online directories can remove the bad listings before they are seen.
The search engines and online directories have a responsibility to validate listings before they place them as a resource for the consumer. They are a for profit organization (Google made approximately 55 Billion in revenue last year). So, one would think they would want their information to be accurate.
Techniques to detect false listings
Hire a real person(s) to validate listings. Do not use algorithms. They don't work, but real people can analyze all problematic categories with no trouble.
Are they registered with the state corporation commission and the state tax department? Are they truly licensed in the states that have locksmith licenses? You can check online at the state web sites. Check the address they say they are located - if they have no affiliation with that address. Do a reverse search see what appears at that address. Call the business or one next-door see if the address checks out that way. If not legit send their web page to the back pages and please don't give them a pinpoint position on the map.
Call the company directly.
A quick trick to find out the truth call the locksmith: ask if you can come by and get a house key duplicated. If the response is something like "We're a dispatch point," they just might be a scammer as they definitely have no affiliation with that address; lie number one. Mobile locksmiths may have a service area but not an address if not true.
What can the consumer do?
Many times they can't tell real from false. It's not their fault. The listings are so well disguised there is no way to note a difference on first glance. The consumer can use the same methods as mentioned to check out the company to see if it is presenting false information, if found to be lying then there is a high probability good things will not follow. But you can try. It takes time and is difficult to do without resources as the search engine who placed them there to begin with. So be sure to suggest to your search engine they police their publication. It benefits all; the consumer, legit service companies, and the reputation and honor of the search engine. Good luck and let's fix this problem together.