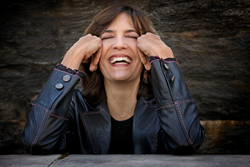 NEW YORK, N.Y. (PRWEB) April 11, 2017
Jazz Vocalist Sarah Partridge will perform songs from her new album, "Bright Lights & Promises: Redefining Janis Ian", for her official CD Release on May 11th at 7:45 pm at the legendary Bitter End in New York.
Partridge's album, will be released by Origin Records on April 21st and is a reimagination of 11 of Ian's songs. In addition, the duo wrote two originals for the recording and Ian duets with Partridge on one.
Janis Ian https://www.janisian.com/, who has received a total of 10 Grammy nominations in 8 different categories began her musical career at the age of 12 and has continued to have an illustrious career for the past 5 decades.
Ian believes, "we don't sell music, we sell dreams."
"I chose the Bitter End for the CD Release because it is one of the New York clubs where Janis began her career at the age of 14. This venue has such history, and Fred Weintraub, gave so many talented musicians a chance to perform on his stage. It's poignant that Weintraub died in March and that the club continues to thrive. This should be a great night of music and hopefully a fitting tribute to Janis who will welcome the audience in a video before the show," says Partridge.